We are about a week out since we were at the Northwest Flower and Garden Show so we want to take some time to share with you the most frequently asked questions we answered at the show.
The item in this garden that we answered the most questions about was the bottle tree.  Oh, the bottle tree!  Designed by Susan, the Plantswoman herself, and fabricated by Patrick Clanton, a metal artist from Bainbridge Island, the bottle tree garnered many ooh's and ahh's from show goers.  Here are the top 3 questions we answered about the bottle tree: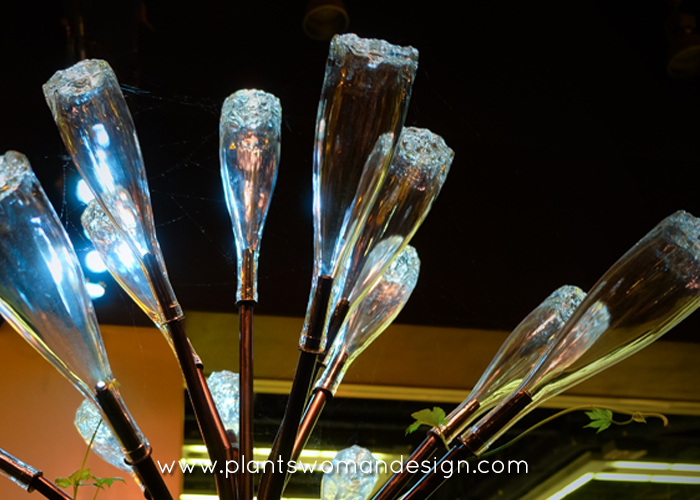 How did you get the bottle to look like that?  There were many theories that show goers had. From hand chiseling the flower design into the bottom of the bottles to having a custom glass blowing stamp made.  But the bottle was just a lucky find.  The bottle is manufactured this way and is used to bottle the Cotes Des Roses wine commonly found at Northwest area Costco, Safeway and Cost Plus stores.  We found ours at Costco back in November and shared the wine with our friends, family and clients as long as they promised to give the bottle back.
Where is the light coming from?  The bottle tree is lit from the inside with an LED light at the end of each branch. When the show lights went down at the beginning of the show you could really see how beautifully the flower design glowed.
What is the tree made of?  The tree is made of metal. Many folks wanted to know if we used conduit and one show goer even asked if she could make it out of PVC pipe.  I guess you could but it would lose some of the modern sleek feel that using metal would grant you.
Not to be outshone by the bottle tree our Pub Shed is next on the list of most asked questions.  Our shed was provided by Better Built Barns in Oregon.  They modified their slant roof model to fit our specifications and brought it to the show for us on their special truck fully constructed and painted.  Our top 3 questions about the Pub Shed:
How big is the Pub Shed? The shed we had at the show was 8'x10'.
Oh, that's a cute She Shed!  This is not a question but a comment we heard. No, this is not a 'She Shed' it's a Pub Shed complete with keg fridge and wine.  The garden around the shed is filled with herbs and fruits to make your libations even better.  Who wouldn't want this in their neighborhood?!?!  Talk about building community!
What is the Tipsy Gardener Pub? Is it a real place?  Instead of a brochure this year we passed out coasters for the Tipsy Gardener Pub which is what we named our Pub Shed. We even had shirts made which we wore on select days of the show.  Show goers really got a kick out of it and so did we.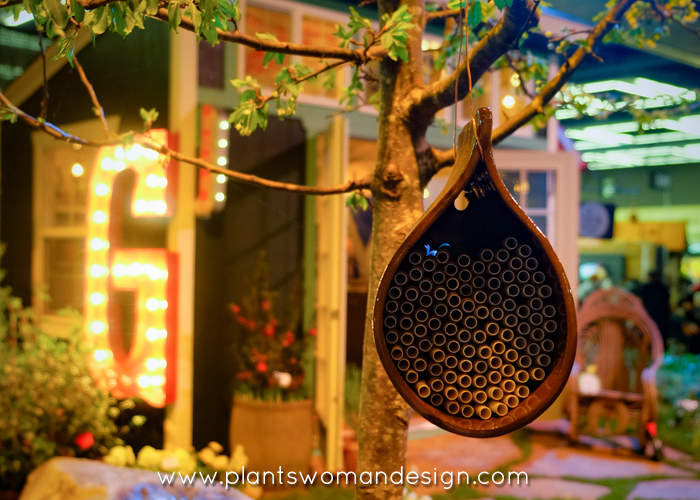 We had good response to the mason bee houses we had on display that were provided by Crown Bees.  David Hunter, owner of Crown Bees, gave a seminar on bees at the show and we had a great time meeting him.  Here are a few questions we answered about the bees:
What are mason bees?  Mason bees are a solitary gentle bee that is a great pollinator. Since they have no queen or hive to protect these bees are not aggressive.
Do they make honey?  These bees are not honey bees.
They seem complicated are they?  No, not really. The best part is that the staff at Crown Bees are super helpful and are happy to help you find success.
All in all we had a good time at the show this year.  Actually we always have a good time at the show even though it makes for a very long week.  Drop us a line if you have additional questions.