The days have been very warm for April and the garden beds are ready to plant. I don't know about you but sometimes I get carried away with new seeds I've purchased and forget about the old ones. This year I sorted through my boxes of seeds and found several packs with just a few seeds left that were outdated. Wondering about the germination of old seeds (and reading about them too) I decided to plant some in the greenhouse to see if they would germinate.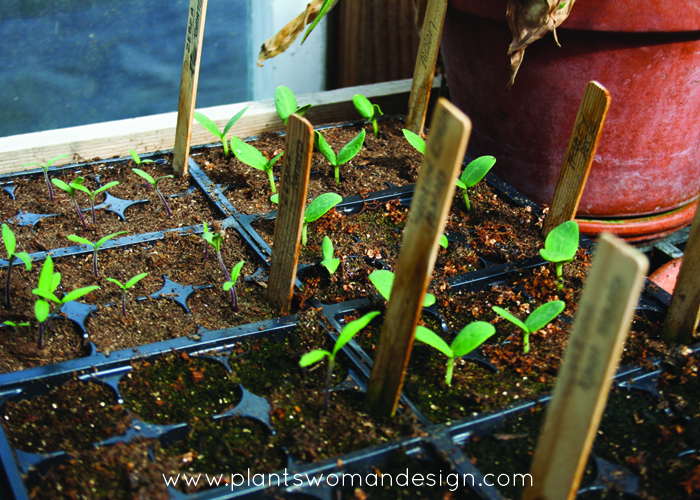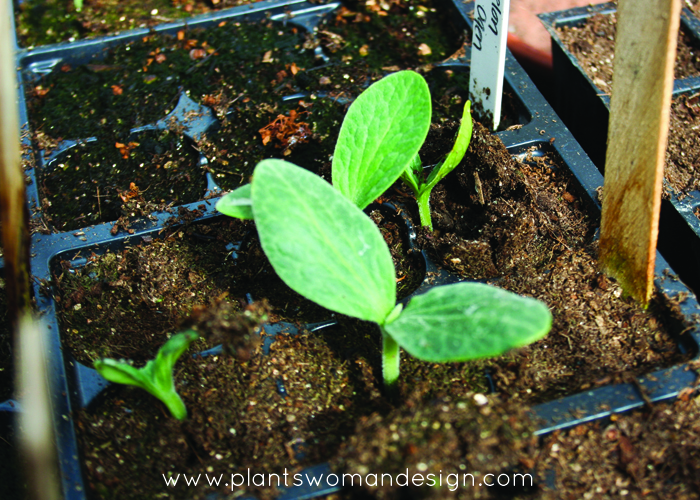 The zucchini seeds were from 2011 Italian seed source. Out of 12 planted 6 came up which is actually a pretty good ratio. I will get them into the garden this next week. My first vegetables were planted last week using the expired seeds also. Germination was a little spotty but it is warm this year and there is plenty of time to reseed if needed. Seeds of spinach, arugula, lettuce and radishes went into the beds that still look a little rough.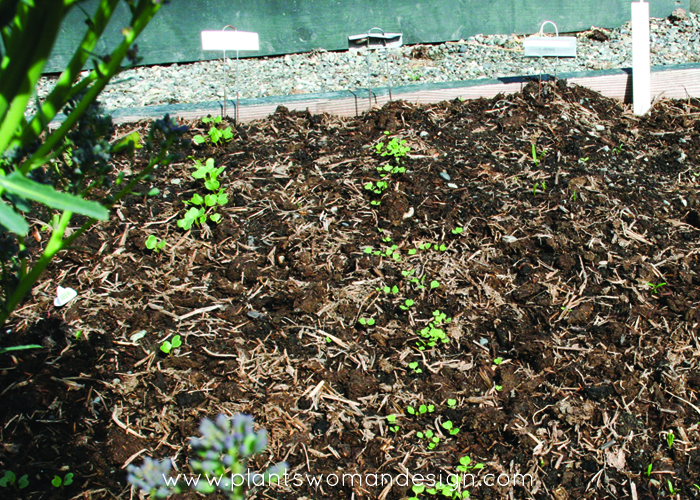 Mushroom compost is my usual amendment for the vegetable beds. This year instead of my purchase of bagged mushroom compost I decided to purchase it by the yard. The compost was not as smooth and delicate as the bagged goods. I was hoping that it would breakdown a little more after the prep of last month. It didn't really look like much of a change but I took the chance and planted anyway.    The seedlings are tough! They are coming through the organic matter just fine.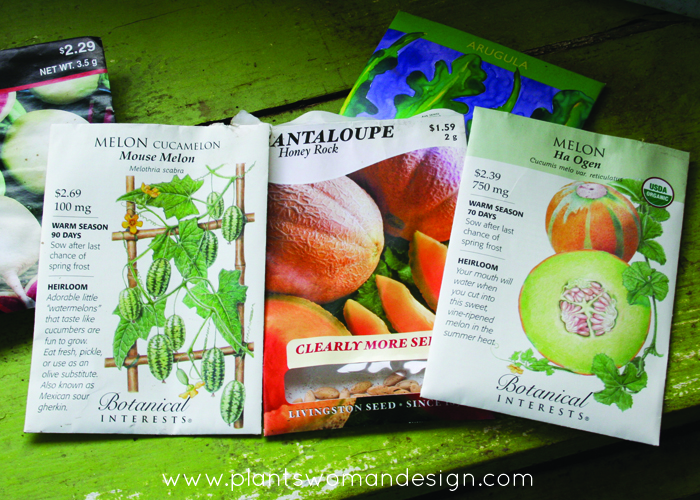 New to me this year are the Cucamelon or Mouse Melon and the Ha Ogen Melon. Last year my first ever cantaloupe was so thrilling. I know, thrilling, really? Well, never thinking it was possible to grow them, and then actually eating them was, for me, thrilling.
I found a recipe on #gardenchat for pickled Cucamelons. They were so beautiful I had to try them. They are not up in the greenhouse yet but I should see them soon.
Here are the specifics for the Cucamelon:
Melothria scabra
90 days. Cute, grape-sized fruits look like tiny watermelons but have a cucumber flavor, often with a hint of tartness. Also called sandita or Mexican sour gherkin because the fruits turn more sour as they mature. Long vines up to 10′ produce plenty of "watermelons" to harvest from summer to fall. Plants don't seem to be affected by insects that typically cause problems with cucumbers and melons. A terrific container or hanging basket variety!
Days to Emerge:
7 – 21 Days
Seed Depth:
1/4″
Seed Spacing:
3 seeds per mound
Mound Spacing:
4′
Thinning:
Not required
When to sow outside: 1 to 2 weeks after average last frost, and when soil temperature is at least 65°F.
When to start inside: 4 to 6 weeks before average last frost.
Harvesting: Pick fruits when about the size of a grape or under 1″ long for best flavor. As fruits mature, sourness increases.
The Ha Ogen melon matures in less time than the Cucamelon so it should do even better in my garden. I'm still remembering a melon I had in the San Juan's at a farmer's market there. It was amazing and looked similar to this one. Hopefully it will taste the same.
Here are the Melon Ha Ogen details:
70 days. One of the sweetest, most aromatic melons you will ever taste! Ha Ogen is quick-growing, open-pollinated melon that has a long history of devoted connoisseurs. The 3–5 pound fruits are pale green inside with a salmon-colored ring around the seed cavity and a sweet and spicy flavor. If you have room in your garden to grow only one melon this year, Ha Ogen should be your first choice!
Days to Emerge:
5-10 days
Seed Depth:
1/2″
Seed Spacing:
2-3 seeds per mound
Mound Spacing:
4′-6′ apart
Thinning:
Not required
When to sow outside: 1 to 2 weeks after average last frost, and when soil temperature is above 60°F.
When to start inside: Recommended for cold winter climates. 2 to 4 weeks before average last frost. To minimize transplant stress, use paper or pulp pots and transplant pots directly into soil.
Harvesting: Harvesting at the right time is very important with melons. Commercial growers harvest before melons are ripe, forcing them to ripen off the vine, but the last few days of ripening on the vine put a lot of sugars into the melon; so melons taste significantly better when vine ripened. How do you know when Ha Ogen melons are ripe? A ripe melon will have a pleasant, fruity aroma at the blossom end; and a crack will form on the stem right near the point of attachment (this is called the "slip stage"). In a few days, the melon will detach from the vine with little effort and pressure. If it is somewhat difficult to detach the fruit from the vine, the melon is not ready yet. Do not allow to over-ripen.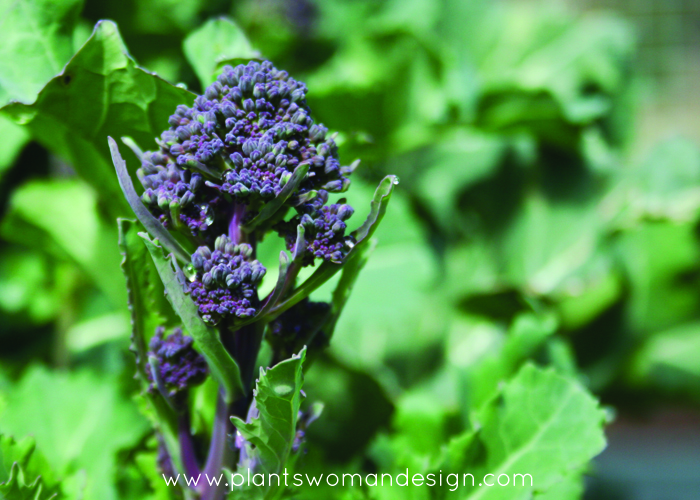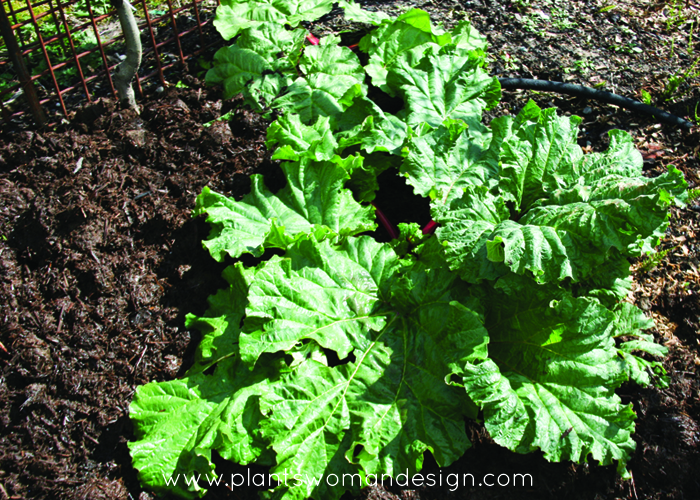 In the garden right now the purple sprouting broccoli from last year and the rhubarb are looking great! Almost time for some rhubarb deserts!
Every gardener should plant a seed. There is something about the anticipation of the plant emerging from the soil that creates spring. It is actually your tangible contribution to the cycle of life. While instant gratification is all the rage and can definitely be seen in the massive amounts of seedlings in the stores the planting of the seed itself in the warm earth connects you to the earth in a different way. Even if you usually don't plant seeds, give it a try. Whether flower seeds or vegetable seeds give it a try this year. Oh! I think I still have some expired seeds to share too! Just leave a comment and I'll send you some.