As I continue to think about design in the vegetable garden I can't help but think about the great design opportunities with the new varieties of Blueberries.   The great thing about designing with blueberries is the year-round color and growth in the garden as well as the benefit of delicious berries in July.  Many of these cultivars have a low chill factor so you can grow these in even warmer places and still have great fruit.
The cultivar 'Sunshine Blue' was introduced in 1979 but I didn't know anything about it until about 10 years ago when it became more available in our area. I like using the cultivar 'Top Hat', which is a dwarf evergreen blueberry and difficult to find, whenever I could.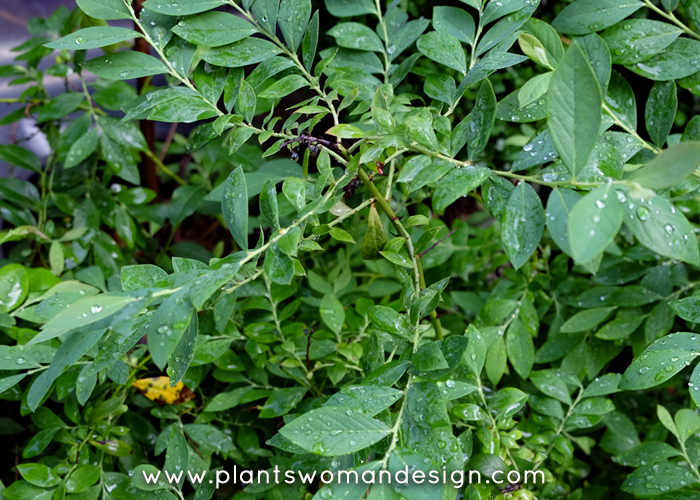 Vaccinium 'Sunshine Blue' has a slightly pointed leaf that is a medium blue green.   With its fine, delicate foliage it can be used in a mixed bed, foundation planting or edging for a more formal bed.  It can be sheared if you don't care about the fruit and takes on a lovely blush purple color in the fall. In my zone 8 garden it is mostly evergreen with good production of fruit.
Plant Description

One of the best for mild-winter areas, a low-chill selection perfect for small gardens or large patio tubs. Blue-green foliage and showy pink to white flowers provide ornamental value, followed by an abundant crop of fruit. Self fruiting, but yields best when planted with another variety. Recommended winter chill: 150 hours. Semi-evergreen.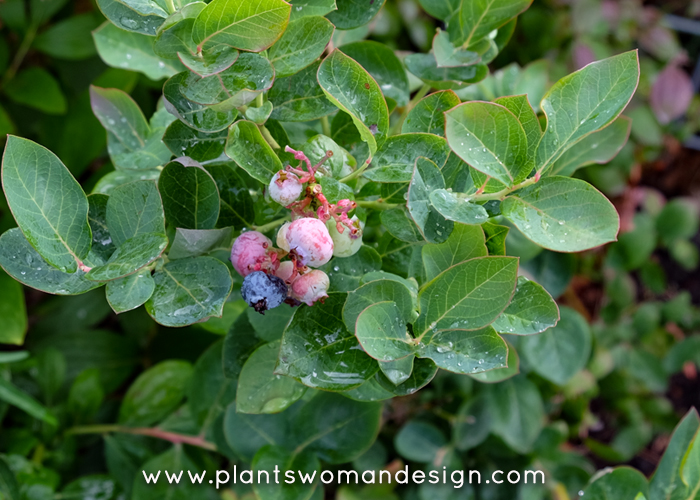 One of my new favorites is the 'Bountiful Blue' Blueberry.  This one has a beautiful rounded leaf with good blue color.   They tend to have a coarser texture than the 'Sunshine Blue' but boast prolific foliage and sturdy structure.  These look wonderful in a natural landscapes with many types of ornamentals.  Japanese, northwest and cottage styles all benefit from these great plants.
Plant Description

An award winning variety with the bluest foliage of all! Pink-blushed flowers produce a big crop of large, sweet, juicy berries on a compact, mounded shrub. Perfect for hedging or planting in large tubs. Self-fertile, though planting another variety may yield a more prolific harvest. Needs only 150-200 winter chill hours. Semi-evergreen in mild climates.
These are also candidates for container production.   I have several clients with large pots in their gardens with blueberries. 'Pink Lemonade' and 'Peach Sorbet' work particularly well for containers.
For the best fruit production give the plants good full sun and good moisture. They are happiest under irrigation. You could put them in part shade but expect lower fruit production.
Here is a video from Nicolas Statton on how to prune the evergreen varieties for fruit production. These are available from the growers at Monrovia. Have a look at that while I go make blueberry muffins.