We have all seen great pictures and even visited designed vegetable gardens. Some great potager, or kitchen, gardens are famous for their beautiful symmetrical designs. My kitchen garden sports simple raised beds in a fairly linear design. I'm planning on revamping the configuration of the beds next year.  I've found that the long beds that are wide (6 feet) are easy to plant but hard to harvest. Stepping into the bed is not optimal and sometimes there are such a tangle of plants in the middle the harvest is lost. That, however, does not keep me from planning some good color combinations in the veg garden.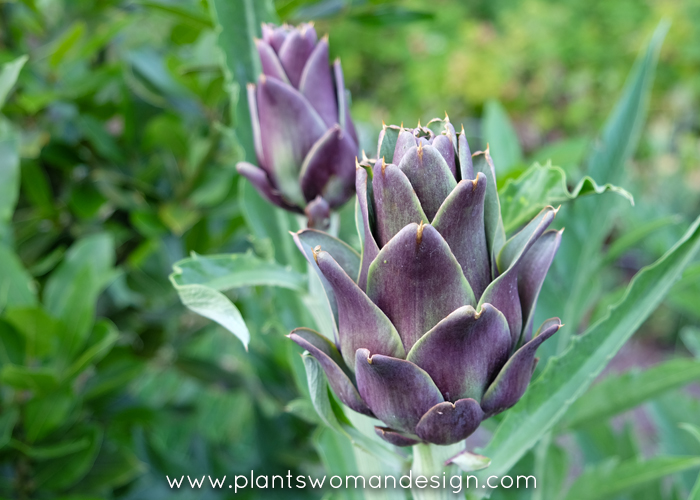 This year I experimented with purple. I already had purple artichokes from last year and they are lovely again this year.   Not only do they lend great sculptural qualities but their color is amazing. A combination of purple and green that holds it color even when dried for fall decoration.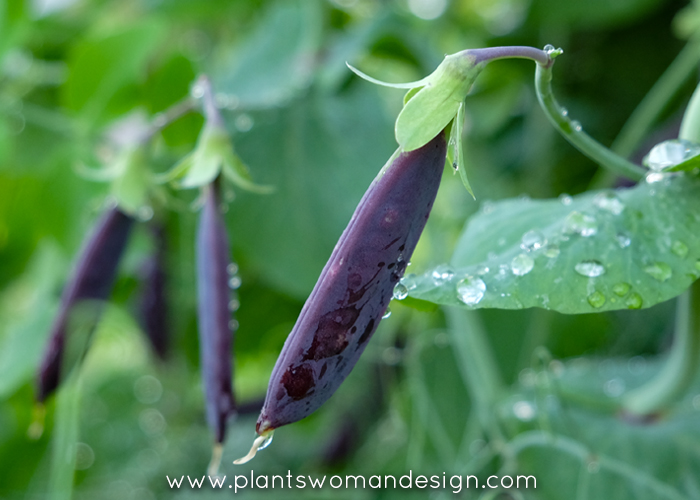 Purple peas are growing, rambling and producing the loveliest pea pods. The peas inside are green and flavor is amazing. The pods are too tough to eat but there are so many pods that the harvest is good for shelled peas. This is a tendril pea so the strange flower like tendrils were odd looking for me. I did pick some and did a quick sauté to go with halibut cheek. Pretty great!
Sugar Magnolia Tendril Peas:
70 days A marvelous innovation in sugar snap pea breeding from Dr. Alan Kapuler, the first ever purple podded sugar snap pea! We love the dusty purple blue pods that really pop in a sea of green foliage. … The flavor is perfect, not too sweet, with a great snap!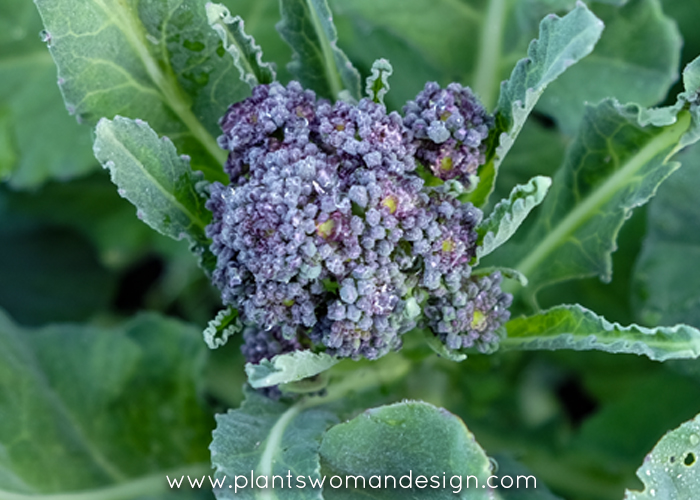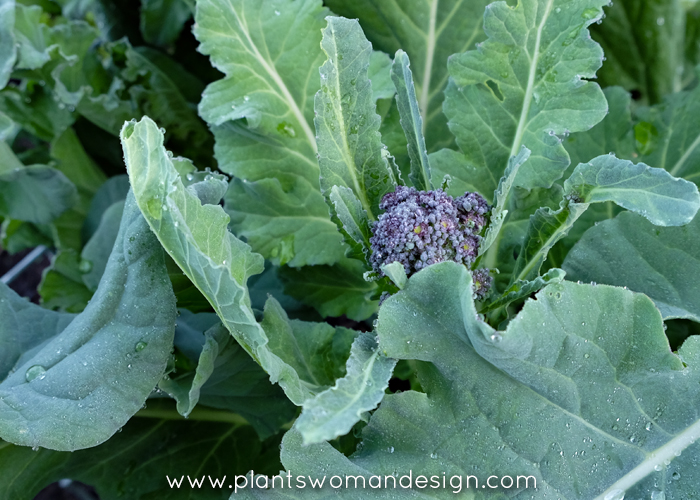 Purple broccoli is another purple plant that has a wonderful color with contrasting dusty sage green leaves. The flavor is great and it produces well. Baby leaves can be used in salad as well.  My plant came from the nursery in a pack and unfortunately, they don't list the seed variety on the plants. I have tried the purple sprouting kind before and it is best in the fall and winter. It over wintered and produced small broccoli pieces all winter.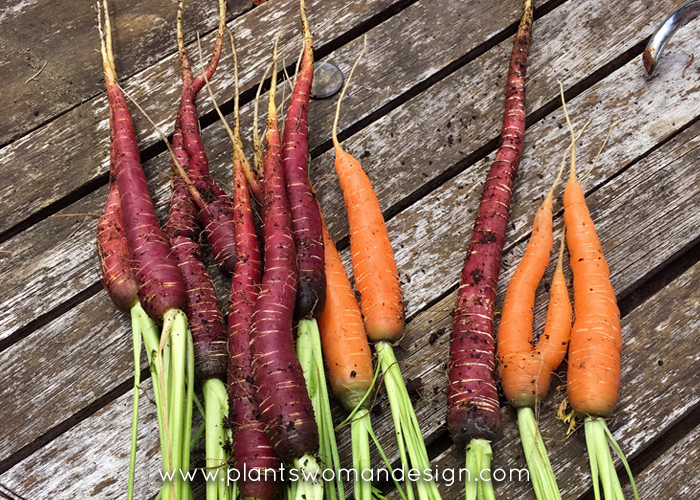 In my blog post, Easter Gift Of Plants, we planted purple carrots at my grand daughter, Kayla's, request. They've done well and are great to eat, beautiful to look at in salads. (that garden is doing quite well!)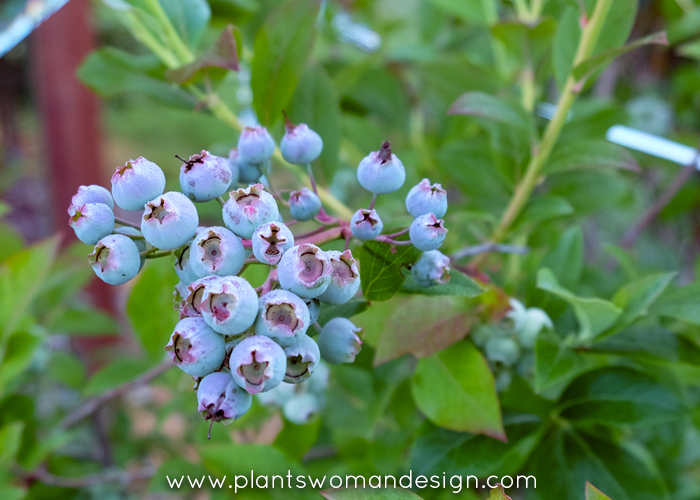 Of course, you can't help but love the purple blue color of blueberries in the garden. The fresh lovely blush or purple/blue as it becomes deep blue is so beautiful. In the early morning with dew they become a reflection of the sky and the green leaves around them. These are an unknown variety rescued from a garden under construction. The border around the fruit beds are Vaccinium Bountiful Blue, an evergreen blueberry that produces great fruit and is beautiful all year round. Fine Gardening has this to say about it.
An award winning variety with the bluest foliage of all! Pink-blushed flowers produce a large crop of large, sweet, juicy berries on a compact, mounded shrub. Perfect for massing in the landscape or featuring in large tubs. Self fertile, though planting another variety may yield a more prolific harvest. Requires just 150-200 winter chill hours. Semi-evergreen in mild climates.
Care: Provide rich, acidic, well-drained soil. Water regularly during the growing season to maintain a deep, extensive root system. In extremely hot and arid summer areas, best with some shelter from harsh, reflected afternoon sun. Before new growth begins, prune off twiggy growth, leaving only main stems to prevent overbearing.
Read more: http://www.finegardening.com/bountiful-blue-blueberry-vaccinium-corymbosum#ixzz4mp1pdVz0
Follow us: @finegardening on Twitter | FineGardeningMagazine on Facebook
There are two more purple things in the garden that are not quite ready yet. Some seed samples from Burpee seed included a Depurple cauliflower hybrid. The plants are doing well but not ready for a picture yet. Burpee seed description.
Ravishing new purple cauliflower with buttery-sweet flavor.

Full Description

In foodie land, cauliflower is now a thing—a flavorful, delicious thing—inspiring culinary rapture, with food writers reaching for apt superlatives. 'Depurple', a ravishing new purple cauliflower, is a trendsetter with delectably textured, buttery-sweet, nuttily nuanced lavender-blue florets. Adds magical color and savory rich flavor served fresh, broiled, sautéed; as fritters, or in a summery cool purple soup. The distinctive color comes from anthocyanins, the antioxidants found in red wine, so purple cauliflower is more nutritious too. To retain the color, sprinkle with vinegar or lemon juice before steaming, roasting, or sautéing. A must-have selection for 2017.

80 days to maturity, sun, plant in fall or spring.
I also picked up some purple brussel sprout seeds from Territorial seeds.   The Rubine Brussel Sprout seeds are in the house now.   They are 4 leaves and will be ready to go out in about two weeks. 85 days. An heirloom variety not often seen in the garden. Rubine offers up a bountiful harvest of gorgeous 1-1 1/2 inch purple-red sprouts that are full of wonderfully rich old-time flavor. A striking addition to any vegetable patch and a gourmet special for your table. Grows to 24 inches and performs best when planted early.
I'll keep you updated on progress and will take pictures of the varieties as they continue to produce. Many of the seeds are available for fall planting so it is not too late to start gardening in color!