Fall is one of the best times to enjoy grasses. In our climate it sometimes takes a while for the grasses (sometimes warm climate plants) to come into their glory. The late sun with its golden diffused light also plays up the colors and blooms of grasses. Grasses can be used in sweeps with many of the same variety but can also be used singularly as an accent in a larger bed. They have the ability to stay out of the limelight until the fall when they suddenly come into their own.
Sesleria shown above between boulders with Astilbe looks amazing. The vertical repetition with soft complementary colors contrasts with the soft shape of the boulders. It makes you want to sit, and reach out and touch.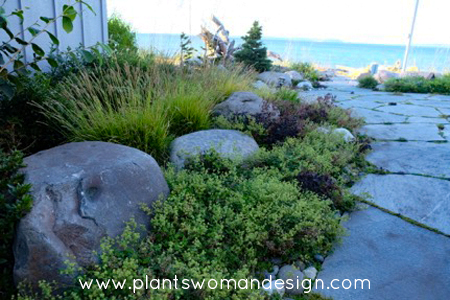 Here the same grass is used in sweeps with the boulders. The sesleria stays in the same color pallet echoed by the Alchemilla alpina and contrast with the color of the boulders. Same grass two different ways.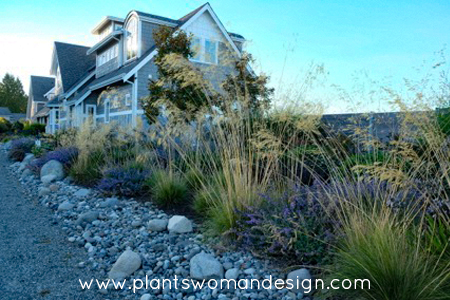 Here various heights help play up the drama in the Stipa Gigantea along the drive. The low growing Nepeta 'Walkers Low' spreads and creeps along the grass. There is repetition in the bed with accents of upright Agapanthus. The same wind that moves the inflorescences moves the heads of the agapanthus. Colors of gray and blue offset the buff and green of the grasses.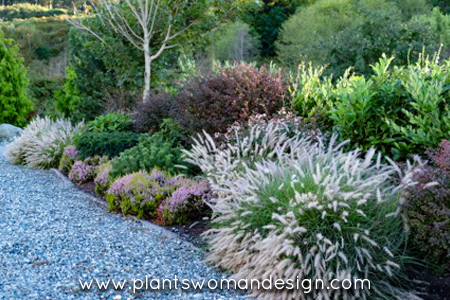 Here grasses are used to lead the eye down the entire planting bed. The Pennisetum orientalis is hardly noticed until August when the flowers (inflorescences) spear into the sky and become the movement in the bed and main focus.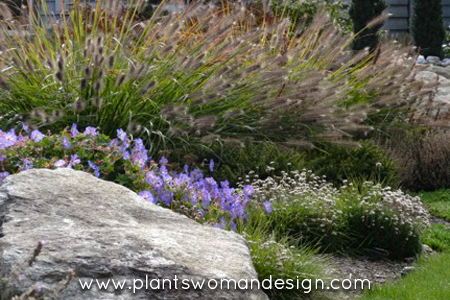 A thick planting of Pennisetum Red head creates a bold statement and provides a wind break to a hidden sitting area.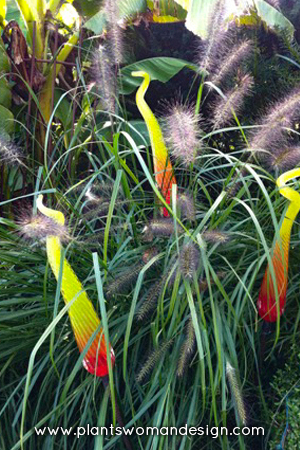 Putting art into Pennisetum  Orientalis  adds another dimension to a planting.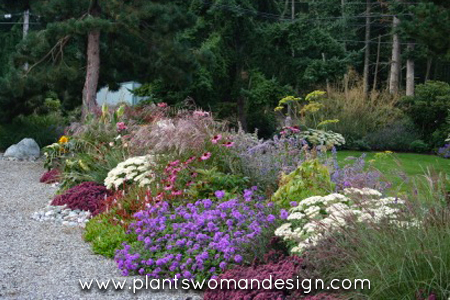 Punctuation marks of Miscanthus give height and movement to this driveway bed.
Cultivation of grasses can be very different. Pay attention to water needs and exposure. Some are great on the beach and with very little water while some need regular water and more protection.
Don't be afraid to plant a grass between larger plants and in the front of a bed. The sense of surprise and contrast in texture is fun.
The same types of grasses used in different ways in the same garden is also fun to play with. Often they look like completely different grasses.