There are times when I wonder if other designers get to design and plant vegetable gardens. I feel lucky that way! Recently I got to design and plant a veg garden for clients who only come in during the summer.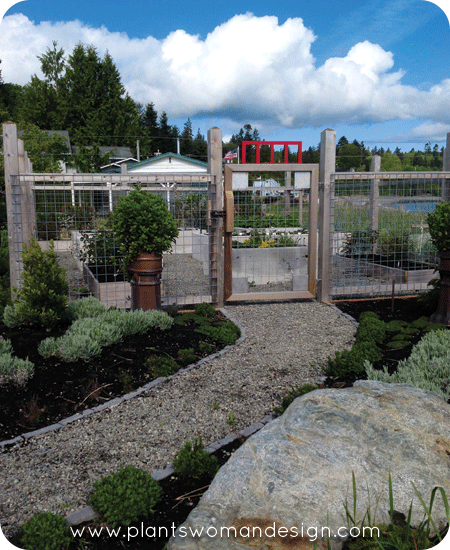 Obviously without year round residents a fence is needed. Because we aren't sure how many deer are in the area the whole of the edibles and roses are protected. The fencing is galvanized wire and is connected to 8 x 8 cedar posts, the metal work on the gate was created by the owner.  They put the fencing and gate together as a weekend DIY project.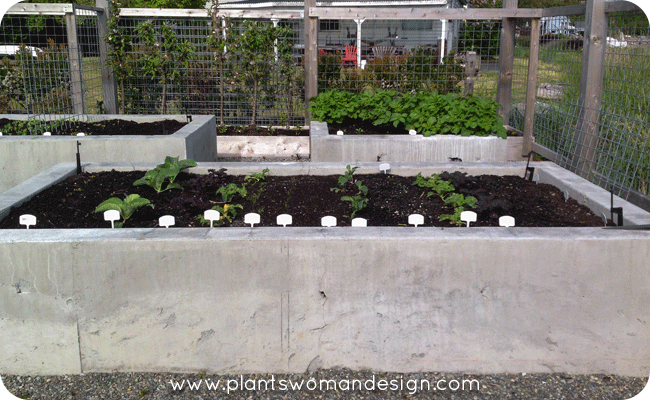 The raised beds are concrete poured into forms but not packed down to give it a rustic finish. We left the with bottom of the form open for good drainage and installed landscape fabric membrane over the native soil at the bottom of the beds to keep the beach grass out. Water is able to go through the soil and into the native soil beneath.
Drip irrigation was added with spray emitters at the corners and along the edge for good coverage. This system connected to the main irrigation system but is on a separate zone. We added a frost free hydrant for extra water when needed.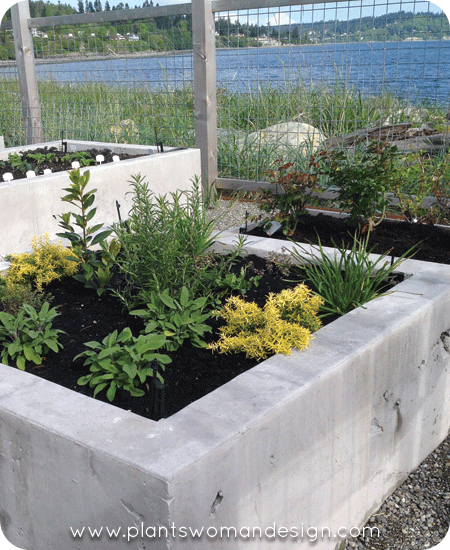 The first bed is the herb bed with a center cone of rosemary and a bay tree. Basil will be added later when it gets warmer.
Early spring crops were put in first with some starts of kale and broccoli added along with the seeds of the same. I used different colors of kale and chard along with several colors of lettuce to make patterns in the planting. Red leafed lettuces, Radicchio, Romaine lettuce, spinach, and arugula are all planted in rows to make a pattern.
Fun purple beans, purple sprouting broccoli and watermelon radishes add some interest and more color. One bed is dedicated to exuberant potatoes both fingerling and yukon gold. Chard is tucked in there for fall color. We dig the  potatoes out in the spring removing some. Here in the Pacific Northwest potaties continue to grow all year so will get too congested if left on their own.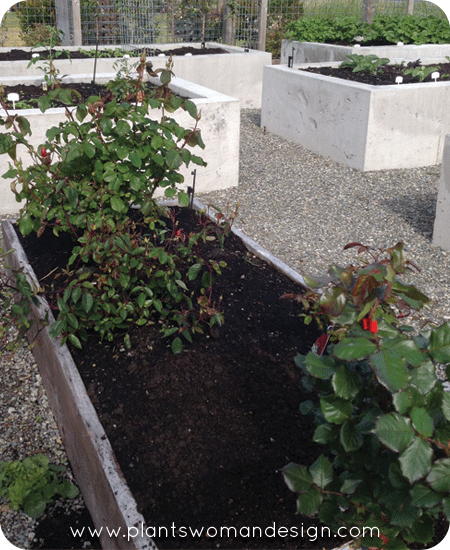 Two side beds hold a collection of roses for cutting. Two new ones we are trying this year are Chihuly and Anna's Promise.
How many of you readers grow a vegetable garden along with the decorative ornamentals? Tell me what your favorite vegetables or herbs are!