Here in the PNW we don't really have to plant garlic in the fall. There are fanatics that say 'have to' and other that say 'no big deal'.   I even read a article from Gardeners World from England about the controversy of planting garlic in the fall. The general consensus is that hardneck varieties should be planted in the fall and softneck varieties can be planted in the spring or fall.   Hardneck varieties can be grown in very cold areas where there is snow cover.   Softneck varieties can be grown in all milder areas in the spring or the fall.   Softneck varieties keep really well up to 1 year when properly cured.   Harneck varieties are often milder and have interesting flavors. (yes flavors in garlic who knew?)  One of reasons fall planting is suggested because the bulbs have a longer season to put our roots and increase in size. It is suggested to plant no later that end of October in our area.
For my experiment I am going to use garlic grown here on Bainbridge Island from the Laughing Crow Farm as well as some others.
The hard neck varieties :
Chesnok Red Garlic – Late-season. Characterized by its beautiful purple stripes, this Middle Eastern hardneck comes to us from Shvelisi, Georgia. One of our best all-around cooking varieties because its full-bodied flavor lingers and is retained after cooking. Especially nice choice for baking as it has a very creamy texture. Easy-to-peel. Stores 4-6 months. (Territorial Seed)
Russian Red – Russian Red is a Rocambole garlic with a rich, musky, garlicky flavor and is very hot when eaten raw. Rocambole garlics have brownish-purplish bulb wrappers and easy to peel brownish clove covers and so does Killarney Red. Rocamboles are valued for being early harvesting full flavored garlics that you can enjoy while waiting for the longer storing ones to mature and harvest. Russian Red's cloves are all of similar large size with no small cloves. Usually harvests in late June/early July and stores into mid-winter at room temp.
Soft neck varieties:
Nootka Rose Garlic – HEIRLOOM – Silverskin softneck with bright white skin and rosy streaked cloves; excellent for braiding. Nootka Rose is a late maturing garlic – the latest variety among the Silverskins – but well worth the wait. Flavor is rich and warm, but not overly hot. This is a very long-storing garlic that easily holds into the next spring or even summer. This heirloom comes from the San Juan Islands off the coast of Washington. Softneck. (High Mowing Seeds)
Asian Rose Garlic – A smooth, silvery-skinned garlic with rose-colored cloves and mild flavor, it ingeniously evokes and amplifies the flavors of other recipe ingredients. This is the garlic of choice for braiding because it keeps for 6 months. Bulbs are loaded with up to 12 cloves. Very fast-growing. Softneck variety. (Gourmet Garlic Gardens)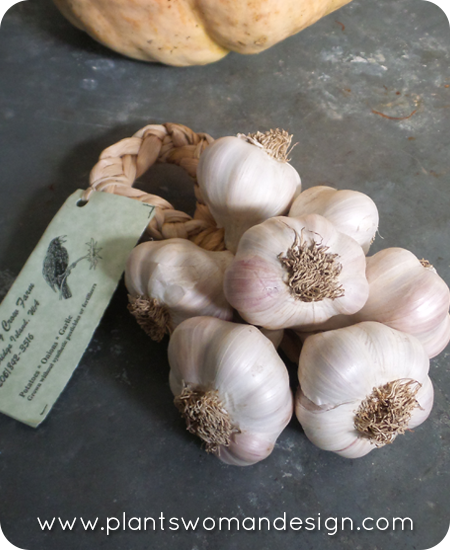 Silver White – It has silvery skin, easy to peel (slip skin). This is the last garlic to mature each season and they store the longest. Wrappers are tight and creamy white. Great garlic for braiding.   When grown in northern (cooler temperatures Silver White can have quite a bite when eaten raw.. It's a lot mellower when cooked.
I will plant one row of each and then eat the rest. Maybe I should have a garlic tasting party.  Would you come?