Next, I checked the heater, filled up the propane tank and replaced lights. I have grow lights on a timer so the lights are on when I'm usually in the house in the evenings and it also extends the growing period.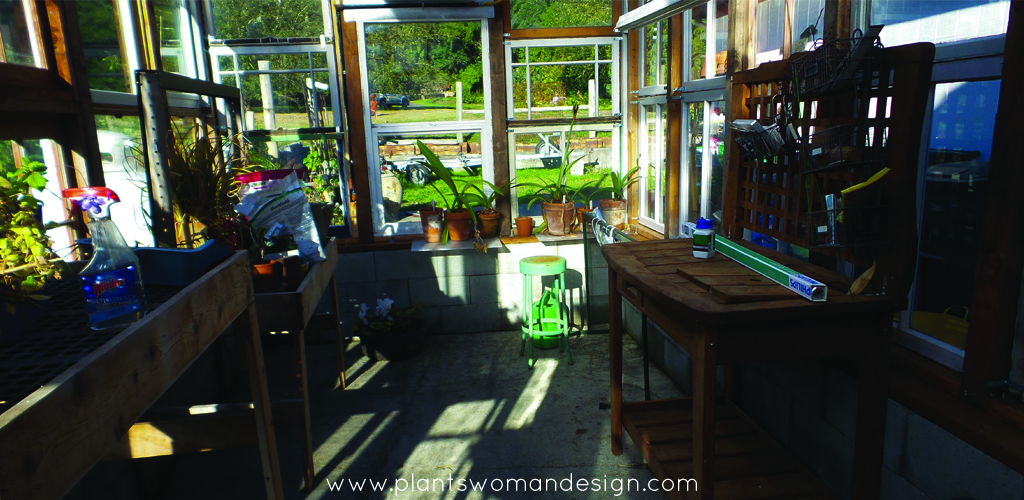 BRINGING PLANTS INTO THE GREENHOUSE
Check each and every one for slugs and snails. One slug or snail can cause serious damage and lay eggs to hatch out all winter long.
Sometimes an organic 'safe' fungicide and pesticide is a good preventative idea. Usually mealy bugs and spider mites are killed in the summer sun but not always. Citrus is especially hard to keep pests off.
Water all transplants well. I usually put my tropicals in the garden so they have a chance to really grow. Putting them back in a container can be traumatic so give them some love.
Leave air space around all the plants. Do not try to cram too many in at one time (that is my biggest problem). If it is a coleus that you love just take cuttings and root those instead of trying to bring the whole thing in. Begonias can be overwintered as bulbs as can cannas and colocasias. Let them go dormant before bringing them in and save space for shrubs that can't (check out this Little Bytes post for how to overwinter bulbs). Even bananas can be overwintered in a garage without soil.
This type of greenhouse is fun, economical and functional. It has plenty of space for tall plants as well as shelving for small succulents. There is usually a dry area of the greenhouse and a wet area. The dry area has the humidity but not constant water. Occasional water is best for those so not watering one whole section is easier to remember. If it gets really cold you can wrap the whole house with another layer of plastic to aid in insulation. I live in Zone 7 so seldom does it get in the below freezing for any length of time. The recycled windows are usually not double paned or insulated so they will lose heat if there is no sun and it gets extremely cold.
A greenhouse is a wonderful thing.