In my last post, I decided (while writing it) that maybe hydrangeas were not so 'ho hum'. In fact, I came up with so many that it should really be split into two posts so, as promised, here is the 'rest of the story' starting with my collection from Windcliff Nursery.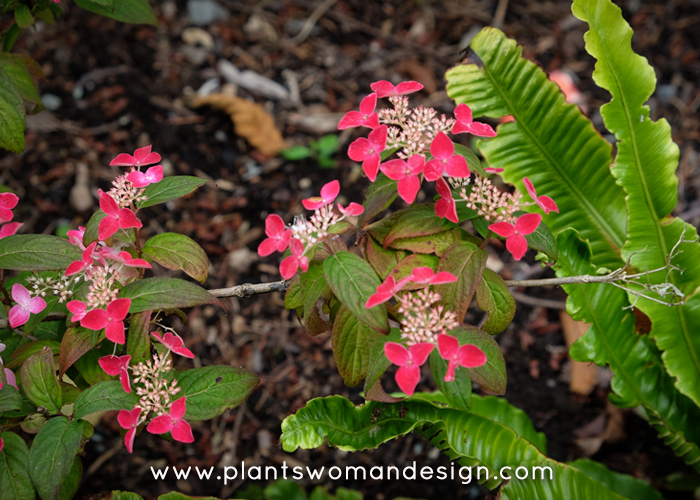 Hydrangea serrata beni a sweet little hydrangea from Windcliff.   Living close to Dan Hinkley gives me the chance to visit his nursery regularly and bring home some choice selections.  This one went in the garden last year and is starting to put on some good growth.   The flowers are an amazing scarlet velvet red.    As they fade they move towards a darker brick red but still maintain a velvet texture.   Beni translates "red" in Japanese, and red, specifically a darkly imbued red lacecap is what this small rounded shrub delivers. Originally collected from a wild clone, its graceful form has dainty flowers that first emerge blushed white and gradually deepen to velvet red shades.  The rich, stop-in-your-tracks color persists on the sepals well into autumn. With cool green leaves and ardent inflorescences, 'Beni' is a dynamic choice for a tight space.
Blooms mid-July–September.
Size: 4′ 0″ high x 4′ 0″ wide; hardy to zone 6.
Hydrangea serrata 'Beni' (S-0643)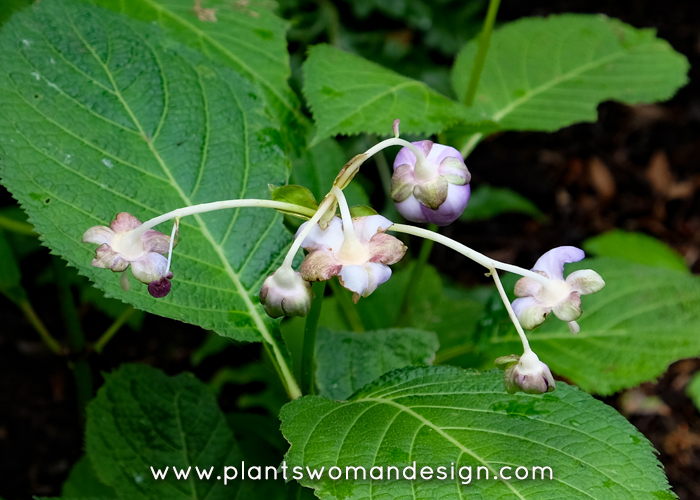 Deinanthe caerulea 'Blue Wonder'. Another plant gleaned from Windcliff is Deinanthe caerulea 'Blue Wonder', the Chinese false hydrangea hailing from 2,500-5,000′ elevation in western Hubei province.  It forms an 18″ tall x 3′ wide clump of upright stems in the garden, the stems of Deinanthe caerulea have four heavily serrated terminal leaves without tip branching. It is topped in early July with small terminal clusters of intricate nodding blue flowers composed of a stigma and hundreds of anthers…so very cute. Deinanthe caerulea needs to be planted in cooler sections of the woodland garden with good moisture and good drainage.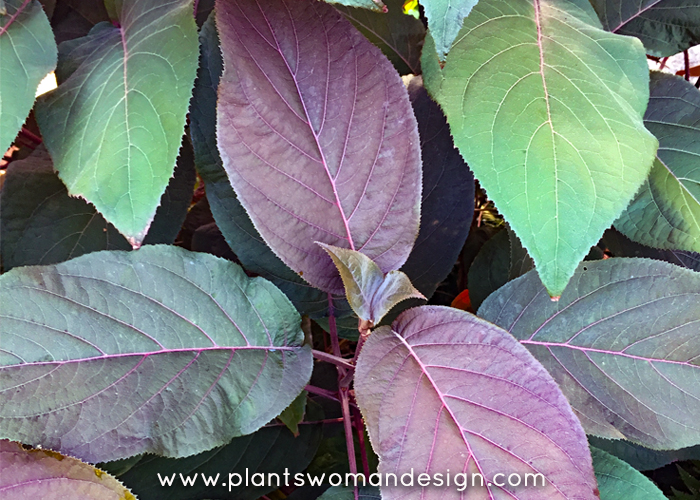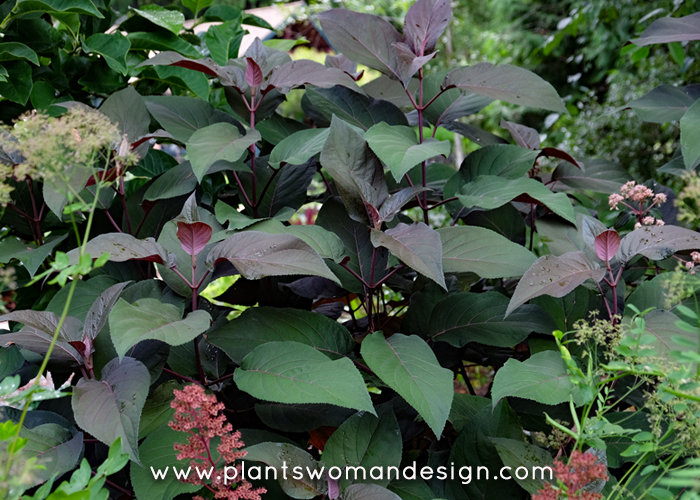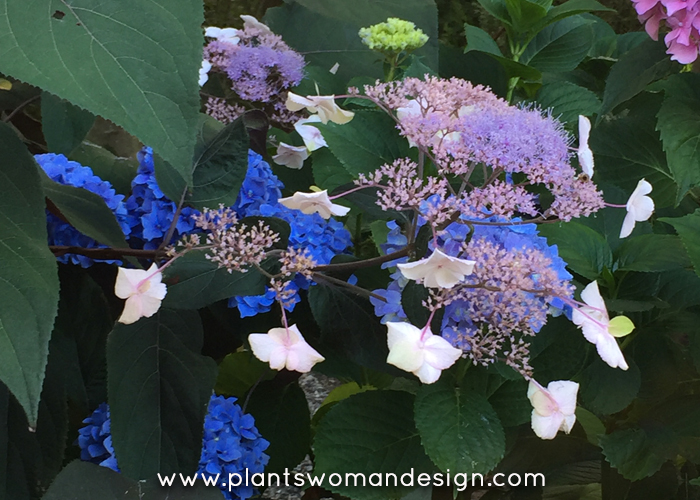 I have grown Hydrangea Plum Passion for several years and I have it in two places in my garden. One in part sun and one in high canopy shade. It is fun to see the two different plants and how they handle the different conditions. The one in full shade has great dark leaves, the one in part sun has more faded leaves. The one in full shade is slower to bloom and had less blooms while the one in part sun has more blooms and is very prolific. Both are about the same size but the one in shade is more compact and has lots of leaves, the one in the sun is open with less leaves. It clearly likes to grow in partial shade with regular water but will deal with full shade.   It tends show stress in the summer without water.  It likes moist soil.    Zone 7 – 10, 5 – 6 foot in height and spread.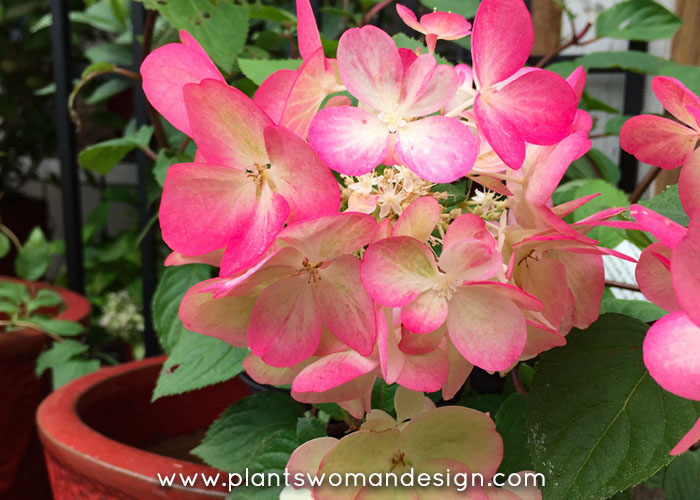 This hydrangea is also an introduction from Dan Hinkley from China.  A type of aspera it has dark, fuzzy, purple leaves with rosy purple undersides. The delicate flowers are a great contrast to the drama of the foliage. It is deciduous with great fall color. Give it room to grow and it will stop you in your tracks with its loveliness.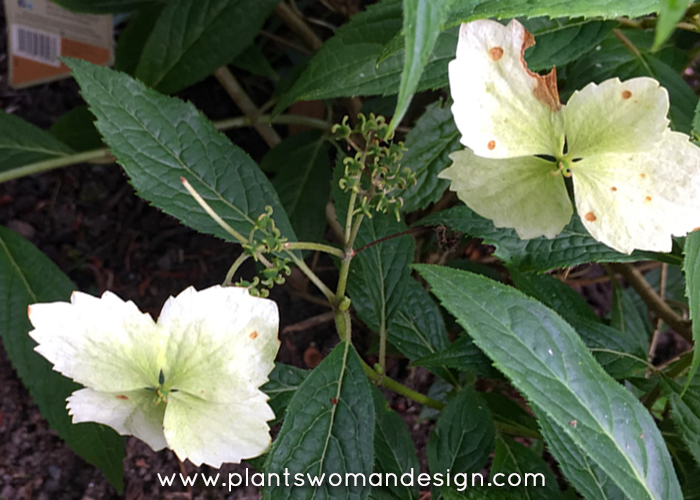 Hydrangea angustipetala 'Golden Crane', (Hydranges angustifpetala 'MonLongShou') also an introduction from Dan Hinkley for Monrovia, (I think he likes hydrangeas) is the second fragrant hygrangea I've ever grown.   It blooms very early with white flowers surrounding golden yellow fertile florets in late March and April.    The pictures here have the remainder of flowers still hanging on and will sporadically bloom during the remainder of the summer.    I do have to say it takes a while for them to get established and live up to their hype, but they are beguiling and sweet.   The fragrance is jasmine-like and floats through the garden in early spring.   Likes full shade to part shade, regular water and moist soil. Zone 6 – 10. Will eventually reach 3 – 5 feet tall and wide.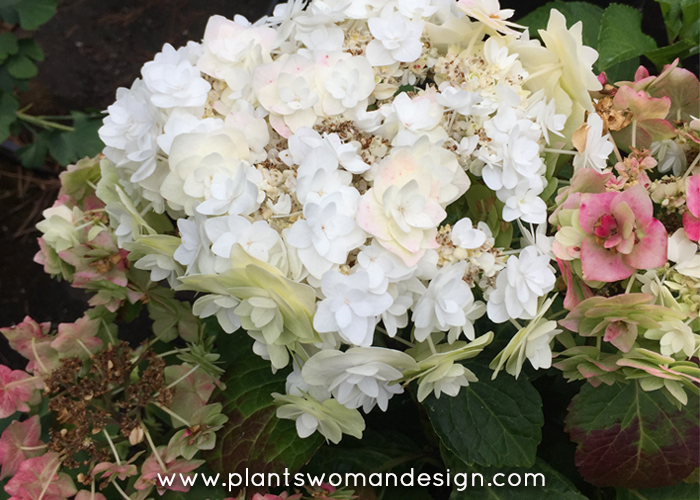 One of the many cool things about doing landscape design is the 'personal shopper' aspect. Going to the nursery to pick out what is beautiful at the moment is a fun trip. While shopping for a client last week I did see some beautiful hydrangeas. These are ones that are available but I haven't grown yet. Maybe you will agree that they deserve a spot in your garden. The Wedding Gown double did make it back to my house, now a wander around the garden to find just the perfect spot for it.