At best, I have a tenuous relationship with hydrangeas.  Sometimes I love them and sometimes they seem like a boring old grandma shrub with little to bring to the garden. But just this week I was going through the upper shade garden and surprise, surprise there are many hydrangeas there. Did they sneak in while I wasn't looking?  Actually, I probably planted them as a test for my clients and there they are looking, I have to admit, fabulous.
When I'm thinking about using a new variety or type of plant in client gardens I test it out in my garden first so I know how it behaves. Hydrangeas are a long-time client favorite so it makes sense that there are some in my garden. I usually think of them as pretty blobs of color, good background, nice color but not really spectacular. However, I think anyone could agree to have these beauties in their garden.
When black stems became the rage several varieties of hydrangeas were introduced.  Two of them are in my garden and while having the same stem they have different habits and color in the flower.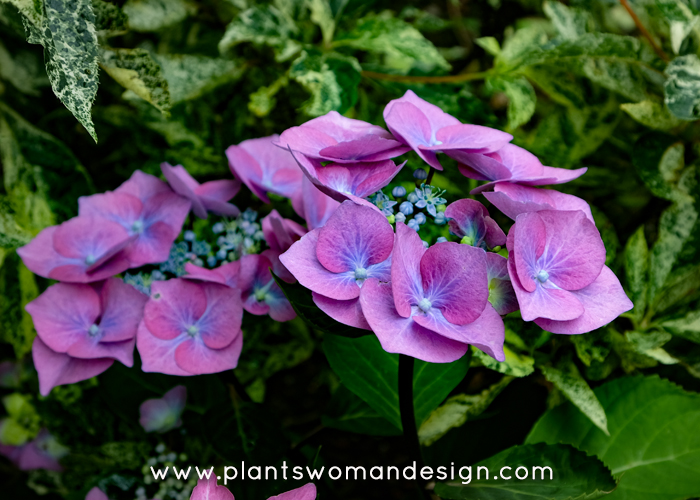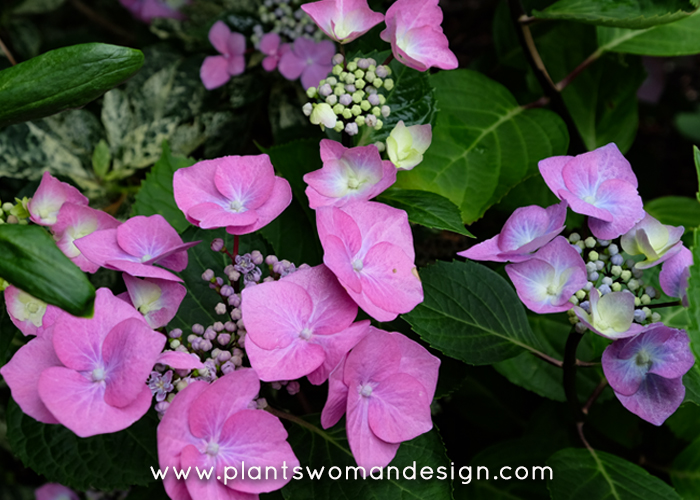 Hydrangea Zorro is a lace cap style that starts out fairly pinky blue and then changes shade to purple blue with lots of variations in color. Strong stems keep the flowers erect and impressive. This one is grown with very little direct sun but a bright open canopy.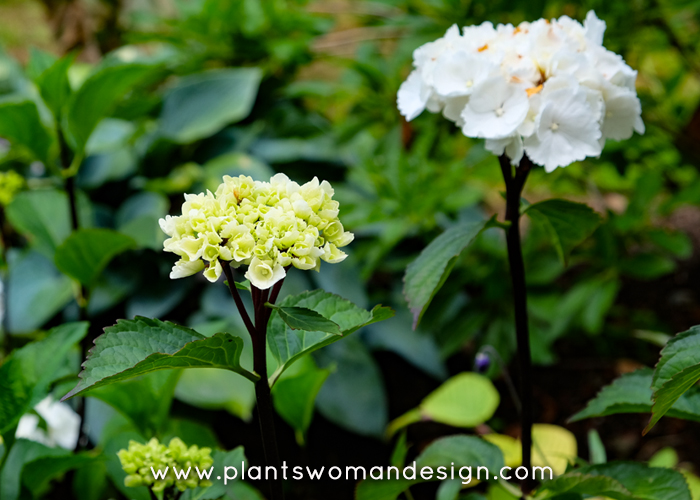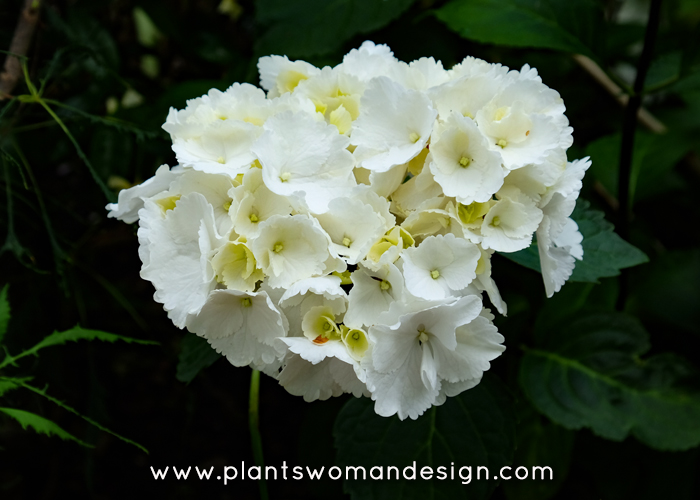 Hydrangea Zebra is another black stemmed variety. It has stunning pure white blooms with that are a lace cap variety but the blooms are so closely packed they tend to look like the mop-head variety.   It is grown with the same canopy and good shade.  It likes moisture and good rich soil.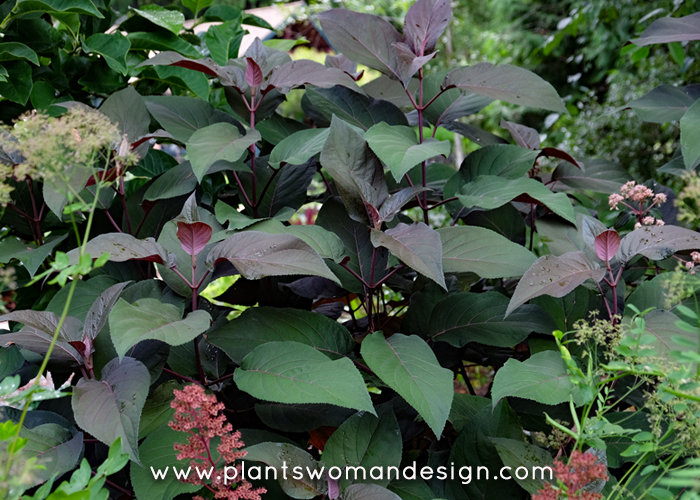 Walking on the dark side gives us the beautiful Hydrangea 'Plum Passion'.   The flowers are great but the real stunning part of this Hydrangea is the fuzzy leaf.  The structure is big with a great background presence.   I've grown it in a container by a front door and it maintains its leaves with a wandering long stemmed shape.   This has been one of my favorite hydrangeas for years though most people would not recognize it as a hydrangea.  Not a fan of direct sun, give this beauty shade and protection from strong winds.
Along with black stems, I do love lime colors in the garden.   In a shaded area the bright lime really stands out.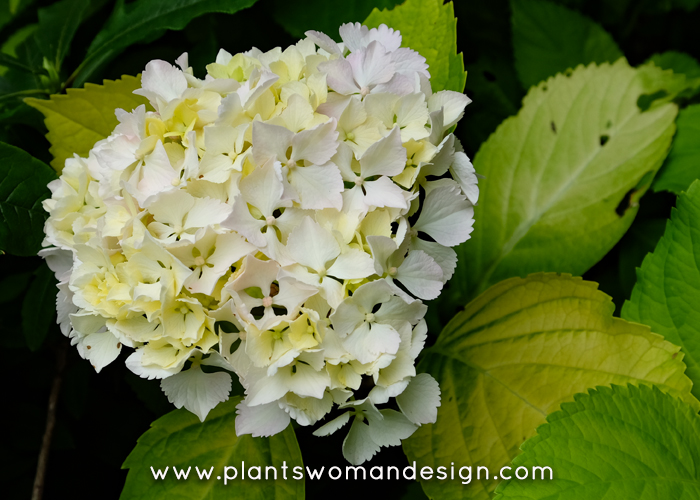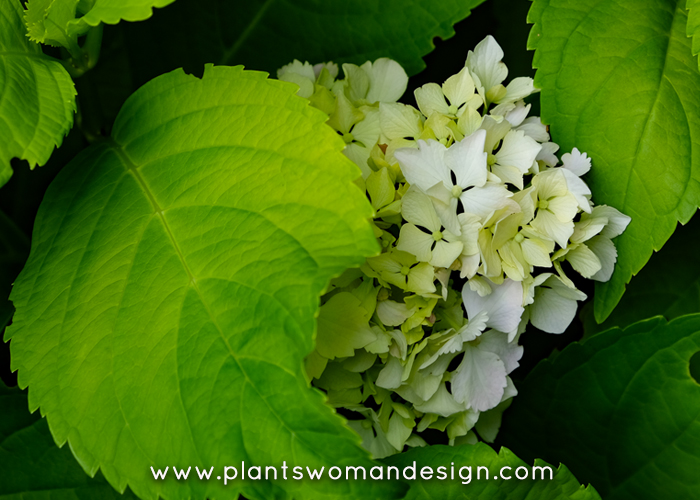 Lemon daddy Hydrangea does that with very lime leaves. The mop-head blooms are white and stay true to color throughout the season. The leaf is electric lime with good variation in color within the leaf. Slugs occasionally eat the leaf so that can be a little discouraging as most hydrangeas don't have a big slug problem. Lemon Daddy can take some morning sun but dislikes the hot afternoon sun. Good moisture is preferred but can take some drought too.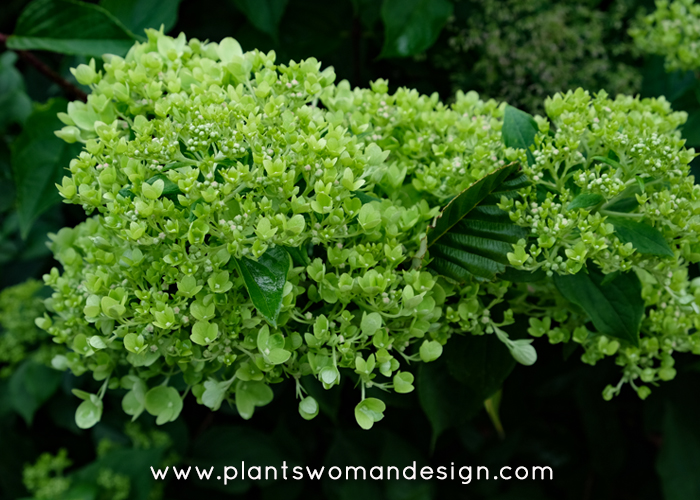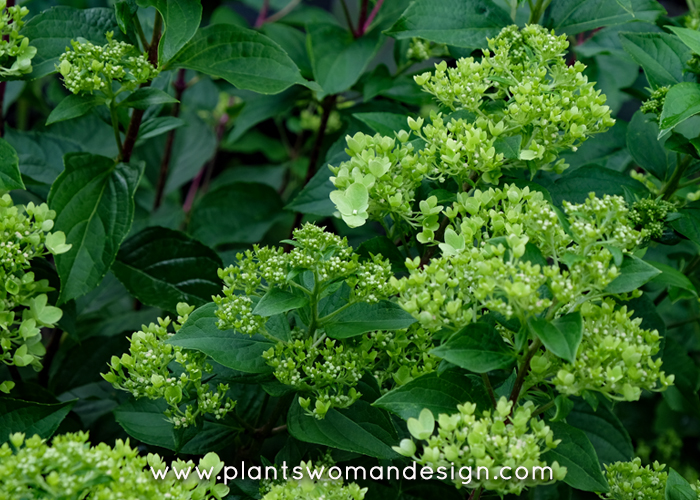 Two must haves are Lime light and Little lime, almost the same except for the size. Limelight can be 4 – 6 feet tall with blooms about 12" across while Little Lime stays more at the 2-3 foot height with blooms about 6" across. Both have tiny little blooms packed on the stems. It is a paniculata type with loose cone shaped blooms. These are grown in light shade with good moisture. They can take some drought but not hot afternoon sun.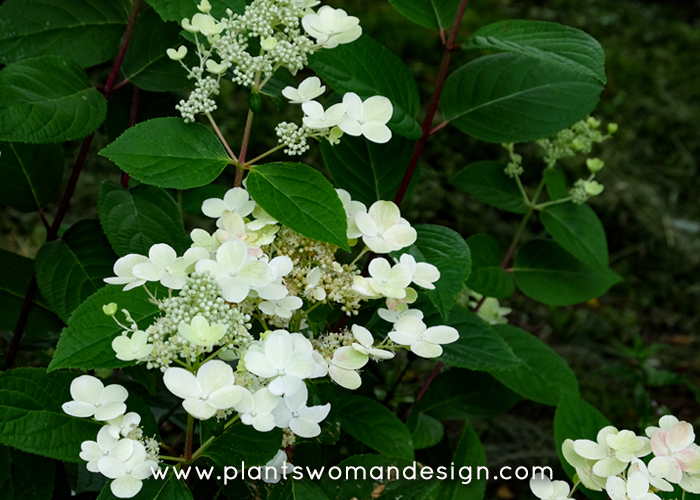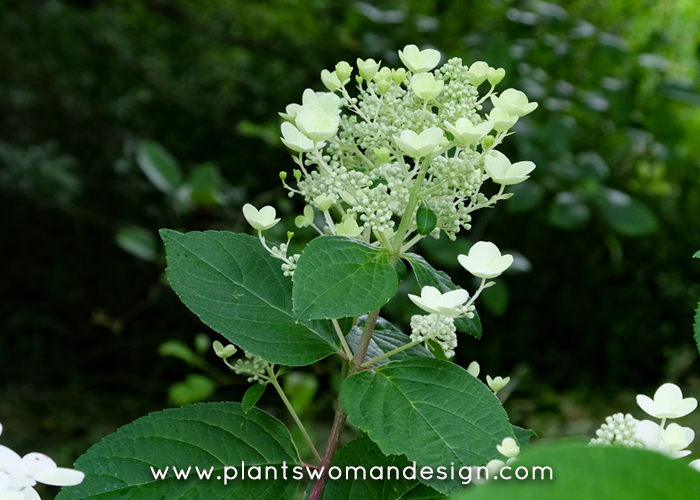 I love the shape of paniculata style hydrangea. Fire and Ice is another paniculata style Hydrangea. This time instead of a green stem it has a good red stem. The contrast in the lime/white blooms and the red stems is very effective in a shade garden. The fall color tends towards red as the weather cools. Coming in at about 4 feet in the garden it makes a good background shrub for the back of a low border.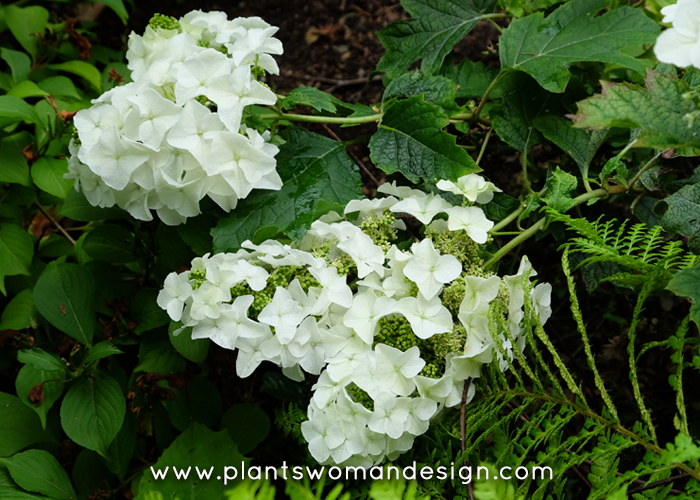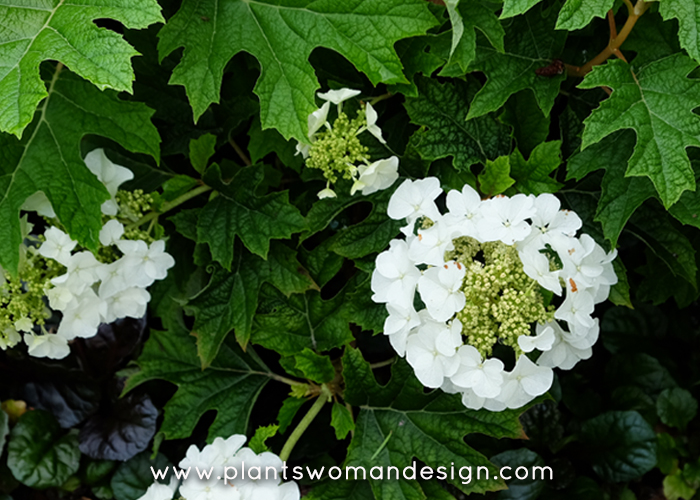 The oak leafed hydrangea 'Jet Stream' is a beautiful example of Hydrangea quercifolia with blooms held away from the main stem so they can be seen individually. The blooms have a tendency to be heavy so will sometimes droop when the bloom is especially large. As they get a little older they will have thicker stems so the blooms will stay up better. Jet Stream likes a little more sun and the thick oak shaped leaves will not burn so easy in the extra sun. They have a lovely pink tinge to the blooms as they fade in the fall.
Well as I write this I realize I really do like hydrangeas. In fact, I haven't finished telling you all about the other ones in my garden. In my next post, I will share my favorite unusual varieties. Fragrance, deep velvet color and climbers are also here in my garden.  Stay tuned!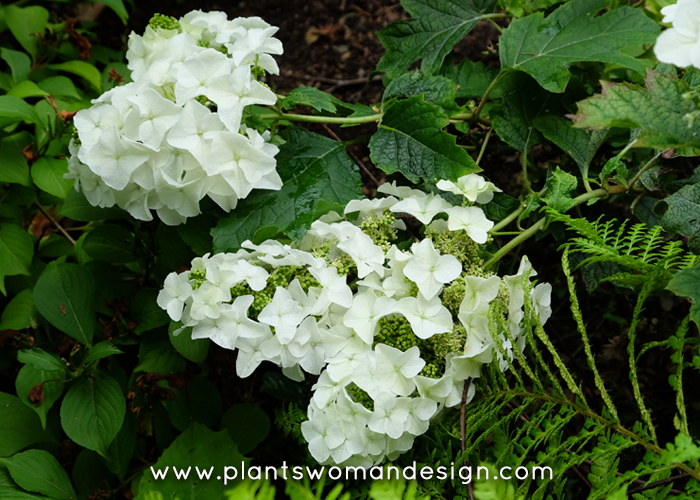 Paniculata
Genus:  Hydrangea
This plant produces gracefully arching branches and pyramidal clusters of white, then pink-tinged to dusky purple blossoms.
Noteworthy Characteristics:  This is one of the most cold-hardy species. It may be grown as a single-stemmed specimen or as a multi-stemmed shrub.
Care:  Grow in moist, but well-drained soil, in sun to partial shade. H. paniculata blooms on the current season's wood; it may be cut back to a few buds to form a framework in spring to produce larger flowers, or allowed to grow with minimal pruning.
Not subject to frost damage because they bloom on new wood.
Overview
Height               15 ft. to 30 ft.
Spread               10 ft. to 15 ft.
Growth Habit      Clumps
Growth Pace       Fast Grower
Light                 Full Sun to Part Shade
Moisture            Medium Moisture
Maintenance       Moderate
Characteristics     Showy Flowers, Showy Seed Heads
Bloom Time       Summer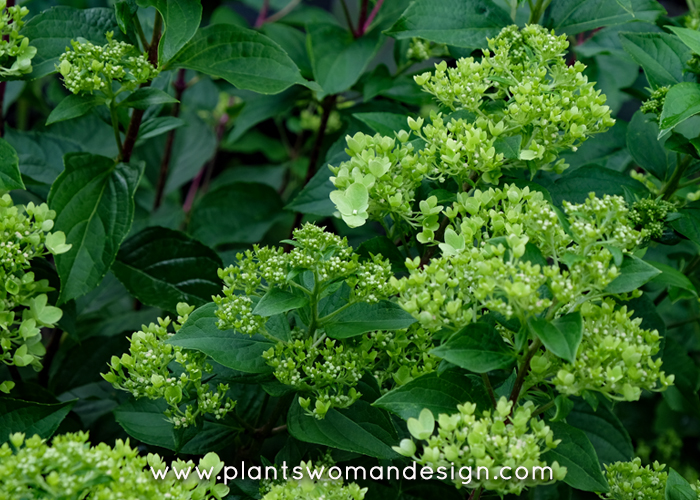 Macrophylla ( Mop Head)
Genus:  Hydrangea
This is one of the most widely recognized species of hydrangeas. It boasts a plentiful number of cultivars. The species is divided into two groups: the Hortensias (or "mopheads") have globe-shaped flowers made up of large male flowers, and the Lacecaps have flattened flower heads, with central, female blossoms ringed in larger, male blossoms
Noteworthy Characteristics:  Lacy, horizontal blossoms and large globes of flowers in rich colors. Many different colors have been developed but some can go through a color change with addition of soil additives. Lime soil will make some blooms pink while acid soil can push the blooms to blue.
Care:  Grow in moist, but well-drained soil, in sun to partial shade. Provide shelter from drying winds. These hydrangeas flower on the previous season's wood, and can be maintained by cutting back just to the first pair of buds beneath the old flower in spring.
Overview
Height               3 ft. to 6 ft.
Spread               6 ft. to 10 ft.
Growth Habit      Clumps
Growth Pace       Moderate Grower
Light                 Full Sun to Part Shade
Moisture            Medium Moisture
Maintenance       Low
Characteristics     Showy Flowers, Showy Seed Heads Drying
Bloom Time       Fall, Summer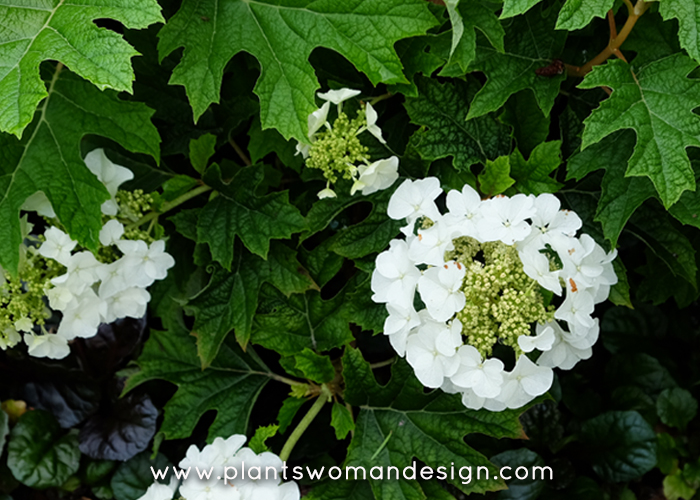 Hydrangea quercifolia (Oakleaf)
Oakleaf hydrangeas originated along the sandy streams of the southeastern United States, and they are more drought tolerant than many other hydrangeas. Their matte green leaves are coarsely textured and deeply lobed, and in fall they turn red and purple. White flower heads form in spring, and as summer draws to a close they turn shades of pink, green, and ecru. -Nellie Neal, Regional Picks: Southeast, Fine Gardening issue #127
Care:  Moist, well-drained soil.
Overview
Height                  3 ft. to 6 ft.
Spread                 6 ft. to 10 ft.
Growth Pace       Moderate Grower
Light                     Full Sun to Part Shade
Moisture              Medium Moisture
Maintenance       Low
Characteristics    Showy Fall Foliage,  Showy Flowers
Bloom Time         Early Summer, Late Spring, Spring,Summer
Flower Color        White, pink