Gone are the days of festive Christmas Decorations.   Tree is down and baubles and bits are packed away for another year.   There is something about the excess and over stimulation of Christmas that calls for peace in January.   Likewise when all the surfaces are clear of clutter it's time to add something calming, soothing, and bright.     White is the solution.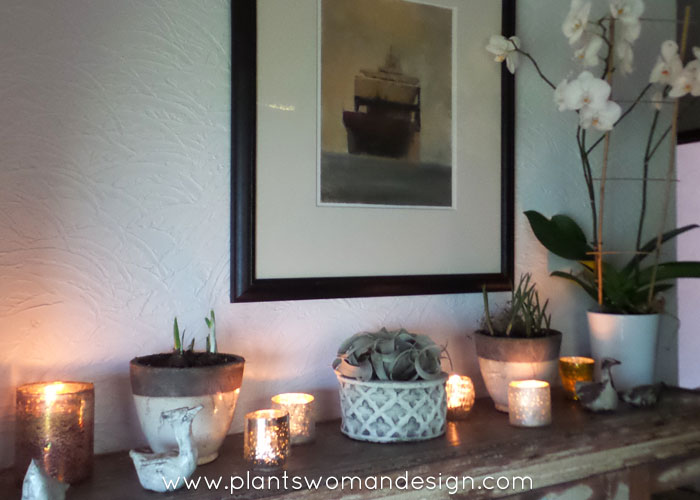 I raided the greenhouse for plants and set them into white containers is a perfect fresh look.   White candles in gleaming votive holders, keep the dark outside at bay.   I like to use a fresh scent like 'linen' in the main living area and a lovely floral like 'gardenia ' in the bedroom.   Both fragrances replace the smell of baking, pine, and cinnamon of the holiday season.
A trip to Ravenna Gardens (http://www.ravennagardens.com/) yields a lovely airplant and container while a stop to Windmill Gardens (https://www.windmillgarden.com/home) adds a staghorn fern to the mix.   The staghorn fern has a wonderful grayish white on the leaves. I can still find paperwhites (narcissus species) to force in the nursery near me so in a container they go with some curly willow to hold up the leaves. Windmill Gardens also had some 4 inch pots of snowdrops (Galanthus sp) and Muscari 'Golden Fragrance'.   These are planted in re-purposed white containers and brought inside to watch as they grow and bloom.   Muscari ' Golden Fragrance' is new to me this year. It looks to have an unbelievable yellow flower with a purple topknot.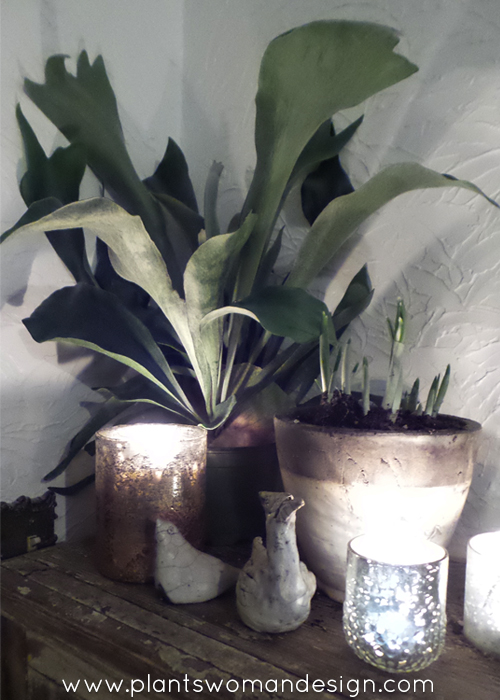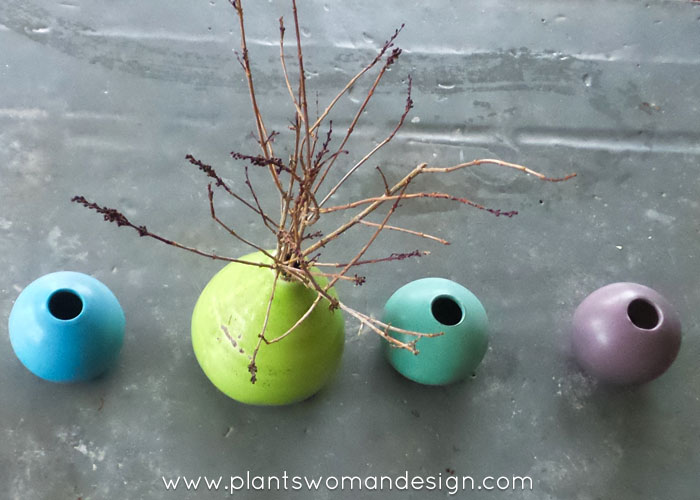 Even these pottery vases look calm and beautiful on the galvanized gray table.   In the middle are cuttings of White Forsythia being forced.
Outside at the front door the white theme continues.   The white sleigh and white birch from Christmas remain but I put up the snowflake lights and early blooming plants crowded around the base.   Hellebore 'Winter Jewel Cherry Blossom' throws its first flower up with more to follow.   The Camellia 'Buttermint' is budded heavily. A couple of Daphnes are just starting to push flowers and the edgeworthia buds are tight and fuzzy but beginning to show their lovely yellow/cream color. Not to be missed are the evergreen fingers of Mahonia 'Soft Caress' contrasting with the upright branches of the February Daphne.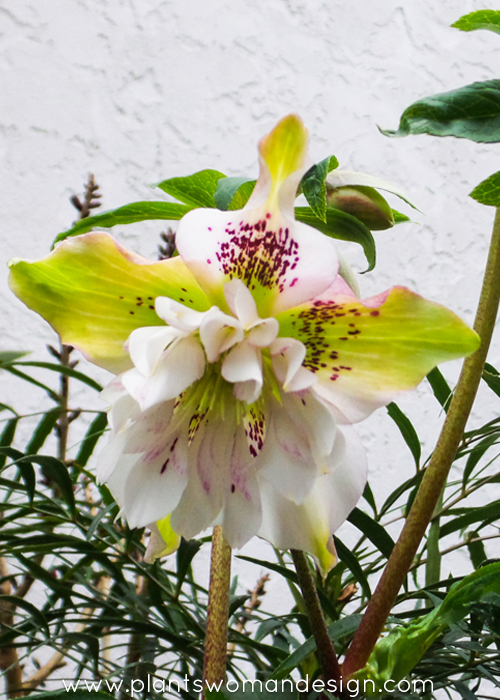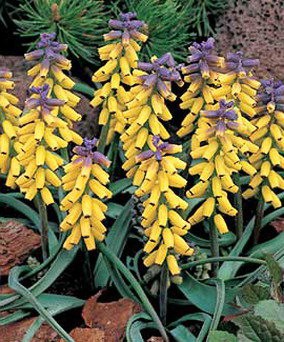 Yellow Grape Hyacinth –Early spring blooming bulb, grows 6 " to 1 ft and spreads. Blooms in early April Zone 5 -8 in full sun to part shade. (photo by easytogrowbulbs.com)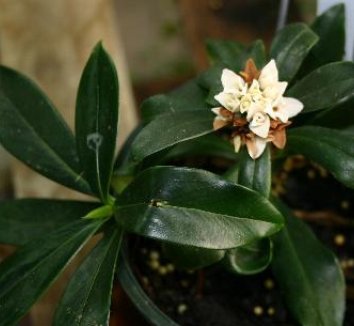 Winter Daphne Evergreen compact shrub in zones 7 -9. (photo by www.plantlust.com)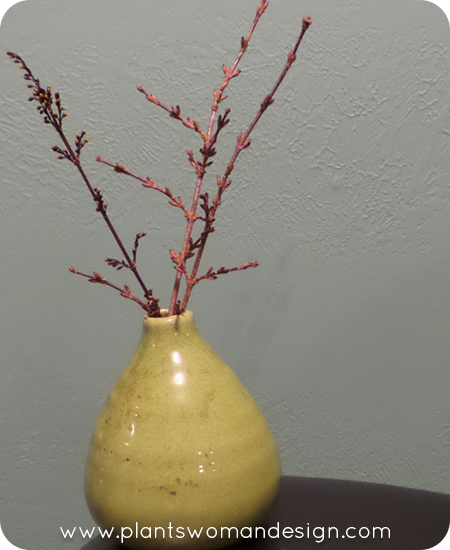 WHITE FORSYTHIA
Abeliophyllum Distichum Deciduous shrubs reaching 3 – 5 ft in height.   Produces fragrant white forsythia type flowers. Low maintence growing in full sun to part shade. Zone 5 – 9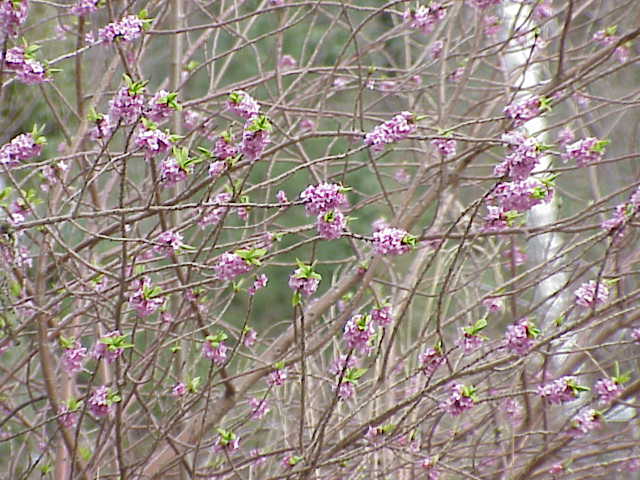 DAPHNE MEZEREUM 'FEBRUARY DAPHNE'
Deciduous in Zones 5 -8   Upright growing with purple flowers on bare branch in late winter. Fragrant and reaching to 3 feet. (photo by Kurt Stüber)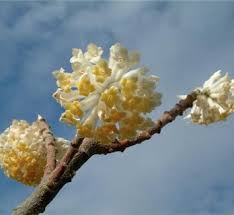 Paper Bush. Up to 6 feet tall in Zone 8, loving Sun to part shade. (photo by www.plantlust.com)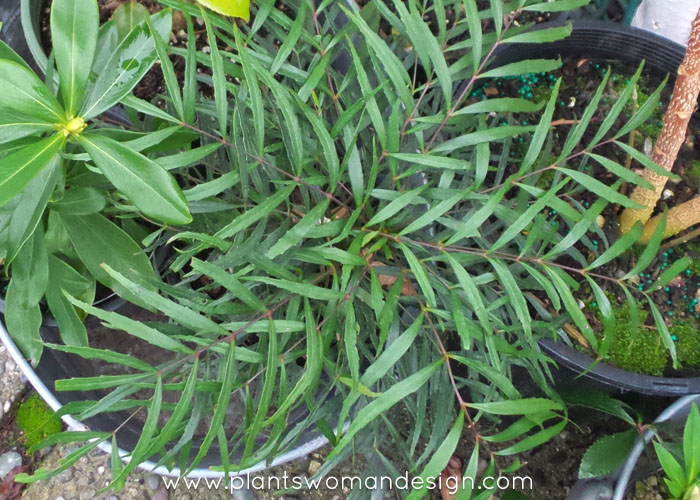 MAHONIA E.'SOFT CARESS'
SOFT CARESS OREGON GRAPE -Long slender evergreen foliage with a fragrant yellow flower blooming in early spring. Part Shade to full shade in Zones7-9.