During the winter months pathways become more important.   Just a way to get to a destination? No, but a way to keep out of the wet, above the often muddy, leaf covered beds and soggy grass.   Often in the summer pathway edges are obscured by overhanging plants and seem to disappear.  But during the winter they need to be easy to navigate, open and beautiful.
Paths can also be a dominate design consideration. This mid-century house is amazing and deserving of an amazing entrance. The gravel and rock edged path was not at all appealing.  Creating an entrance with rectangular slabs of concrete that was in keeping with the rest of the angles on the house was exactly right. The slabs are paced out with an offset, so the walker is able to walk and enjoy the journey through the updated garden without worrying about where to put their feet.  The entry gate is offset from the entry to the house to provide the sense of expectation. The house can be seen from an angle becoming more visible as you walk down the path. Lights are placed in the rise of the steps to provide good visibility during the dark.  The canopy of high fir trees makes it shady during the day and especially dark at night.
Stone was added to edges to retain the soil and keep it from the pathway. Choosing a complementary stone and keeping the angles flat and squared up helps transition the concrete into the natural.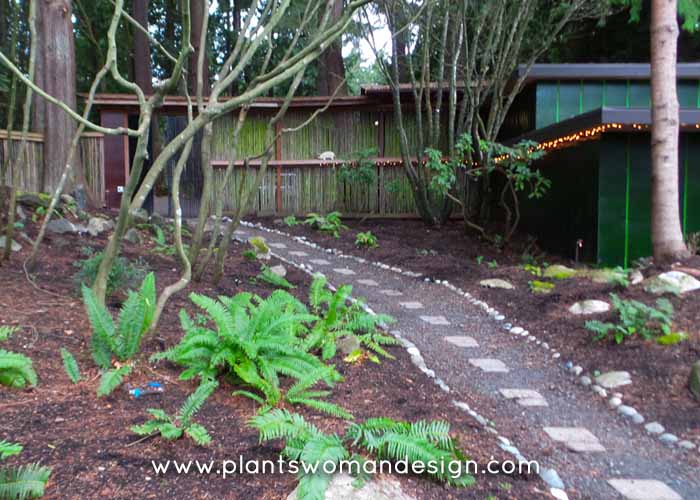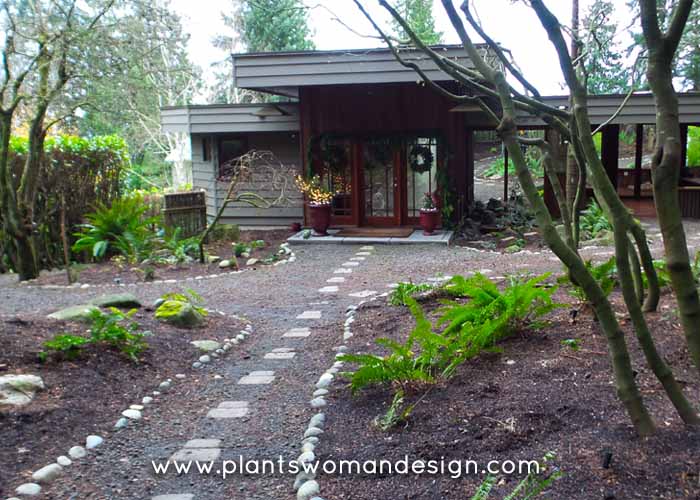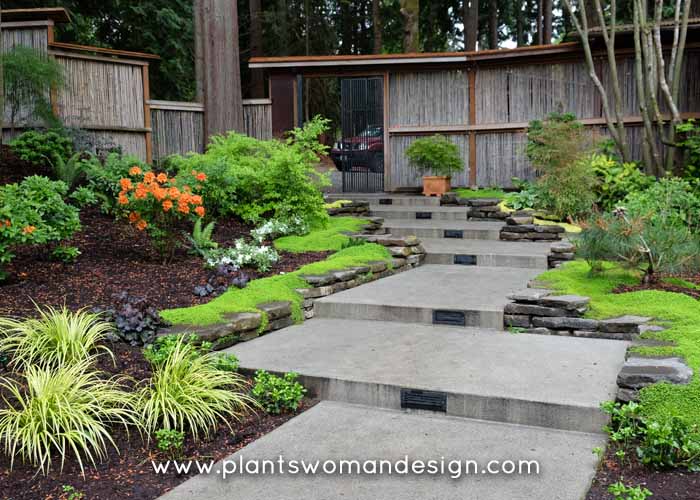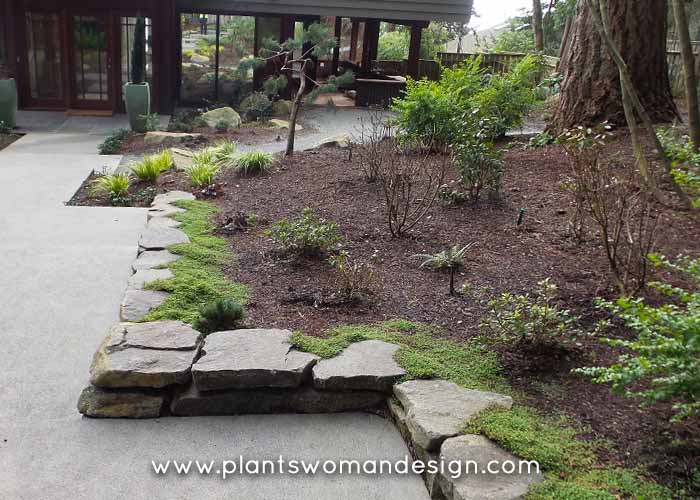 Updating the garden meant having to let go of some of the smaller Vine Maple trees (Acer circinatum). They grew in a thicket and needed to be thinned out. The remaining trees were limbed to accent the beautiful curves in the trunks. Planting pockets were found under the larger trees to add rhododendrons, sarcococca, and azaleas. The open ground around the pathway was filled in with Acorus, Low mosses, Heuchera, pachysandra, and fern. Specimen pines and Japanese maples that the owner had collected were replanted at intervals along the path. We had originally chosen Japanese forest grass to edge the path but the two dogs who live here grazed it like cows. The acorus was not nearly so tasty apparently and adds bright color and movement to the beds. The pallet of bright green, orange and purple lightens up the area during the daylight hours.