I thought you might enjoy what I've been up to instead of blogging.   I love blogging but these past couple of weeks the effort required to get my clients set for the holiday season has made it hard to keep up with the blog.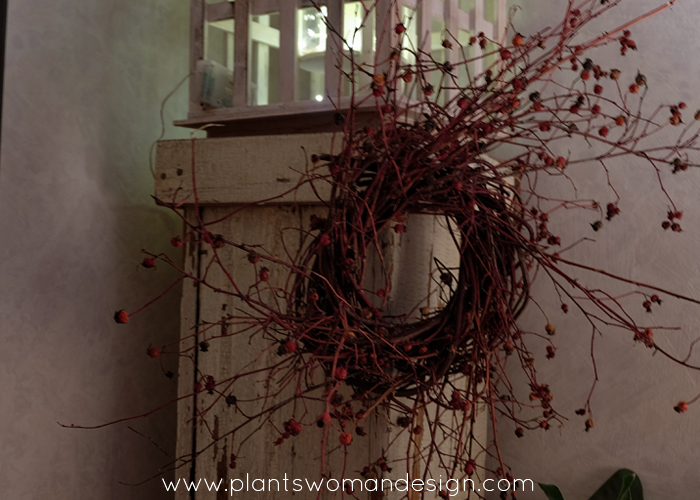 Each year I am love bringing the outside in.   My garden is sleeping but there are still things to enjoy, so I bring them in and enjoy them during Christmas.   Natural style of Christmas decorating means enjoying the fresh and dried products from your garden.  Rose hips are always a part of my decorating.   I have a special history with rose hips.   During my time at college while studying for horticulture I collected rose hips and made wreaths to help support myself and family.   Both our native Rosa nutkana and a Rosa Multiflora are available in our area and hold their hips well without turning black.   Tucking them into old boxes, on top of cupboards and making wreaths out of them add a wonderful natural red accent to every room.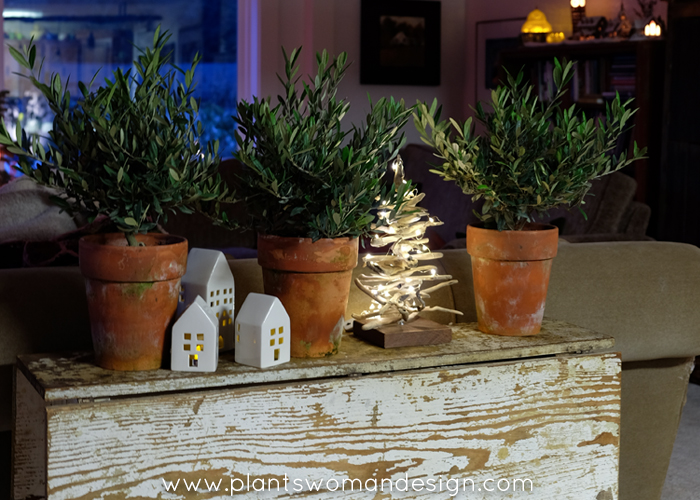 Olive topiary in clay pots also come inside to add a beautiful gray green leaf on top of an old white table.   Accented with natural driftwood tree, lit with LED lights, it makes an interesting display that feels fresh.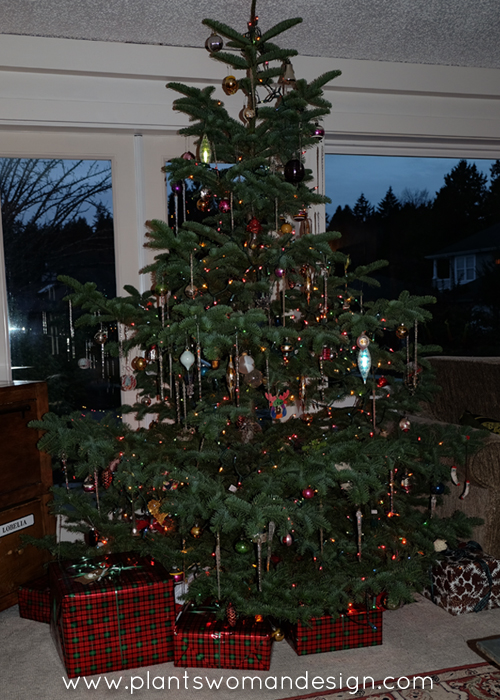 In Washington State we are so lucky to have an amazing variety of Christmas trees that can be cut just down the road from us.    The inside tree is a lovely fragrant nobel fir tree that is native to our mountains.   The formal tiers of branches grow naturally and are perfect for hanging Christmas ornaments.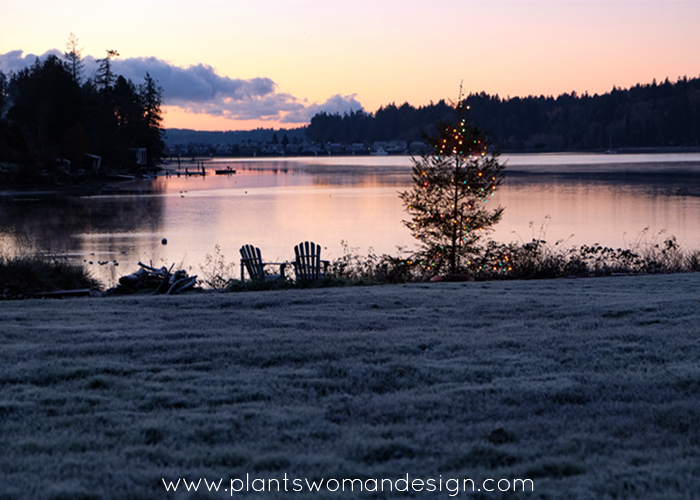 The outside tree is a natural douglas fir.   I find one that is untrimmed and loose.   I used to put rose hips, suet, nuts, and popcorn to feed the birds.  This house with its strong winds make it really hard to keep anything but lights on the tree.  Even the lights are clipped on and the tree is tied to fencing posts to keep it upright.   It is so cool to see it by the water in the dark and when snow and frost highlight it.   Somehow as the days wind down to the shortest day of the year the bright lights in the darkness remind me that soon days will lengthen and daylight will come sooner.
Merry Christmas to all of you. Wishing you a natural and beautiful holiday and beautiful growing New Year.