Tis the season for hunting down your new favorite plants! I read a lot and communicate with people all over the world about plants and each year I usually find one I've been obsessed about finding. Many times they are plants I've killed and want to try again. Sometimes they are plants I see growing in someone else's garden and wonder why I can't have them in my garden too. Zone 8 plants are always iffy but I can't resist trying them and talking about how to grow them with the grower.
The independent plant sellers have a way to help us plantaholics find our fix. They combine their efforts at regional plant shows and sales each year. Best thing ever!! This year my obsession was the Loquat Plant – Eriobotrya Japonica. This evergreen stunner is growing happily in Portland at the McMenamins Edgefield garden. It is lovely, tropical looking and luscious. I started doing research on where to find it. I found several places in Oregon but not mail order places. I couldn't really justify a trip to Oregon for just one plant. But to visit a show, to see many, many different plants, to be excited about new plants I've not seen before… that I could do.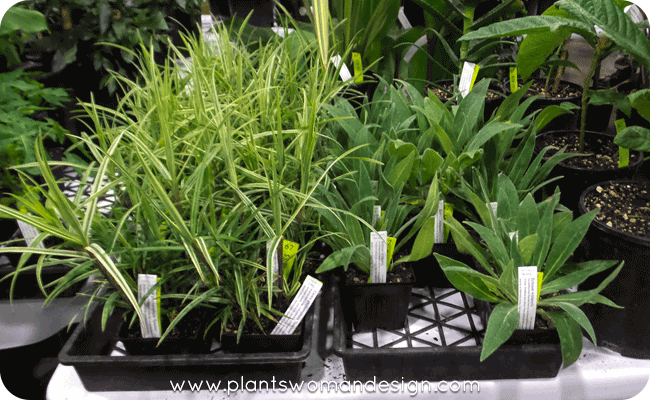 I contacted my friends at Cistus Nursery and they said they had a Loquat Plant I could grab while I was down there. So off I went to Hortlandia, a big horticultural show and sale in Portland. It was so amazing to see so many growers, so much plant material, so much knowledge and people so willing to share all in one place.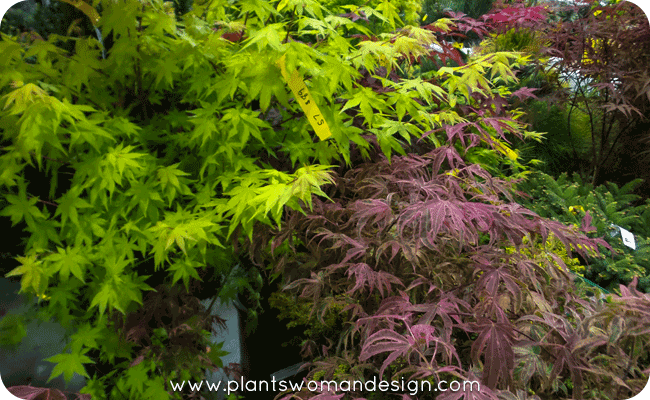 I was there just a few minutes and found the Eriobotrya Japonica. The grower was impressed that I knew what it was. But that is what an obsession is about… you know what you want, you see it in your dreams. I also got a fabulous hardy ginger, Hedychium greenii, Camassia leichtlinii 'Sacajawea' and several non hardy tropicals, including an aloe dorotheae, and alocasia 'Regal Shield'.
My biggest problem always lies in how to get the bounty to my car after visiting all the fabulous growers. But the show makes it easy. You simply gather what you want, drop it off and they store it all until you were done shopping. After shopping you just take your little treasures to the check out tables where they ring up your order. After you finished there is a group of volunteer teens ready to move your take to an outside holding area while you get your car then help you load it! Amazing.
There are also several plant sales in my area to temp me.   Heronswood had a sale in April and is open off and on through out the season. The Arboretum Foundation has FlorAbundance in April and FallAbundance in September. Independent nurseries bring their best plants to temp you. It is best to come early because the best things are gone fast! Here are a few things from my garden that I got last year.
Check out the plant sales in your area and keep purchasing from independent nurseries to keep the trade alive and new plants coming.