Many of my clients have heard "I don't put it in your garden unless I've grown it myself' and it's true. I am always experimenting and trying out new plants to see if they are worthy . After one Northwest Flower and Garden Show the sales rep from Encore gave me several varieties of Encore Azaleas. I tucked them into my garden and gave them a year to grow on and see how they survived a winter. Two of the varieties did well, bloomed well, recovered from a cold winter, and looked good coming out of it. Five of the varieties didn't do so well. They looked bad, struggled through the winter and didn't bloom.   That gave me the opportunity to add two azaleas to my pallet of plants. I still use them in plantings today.
BUT that being said sometimes my garden can look a little haphazard. I will sometimes put a plant in two different areas to test drainage, hardiness, or sun/shade. Three or more of the same species of plant in different colors will be planted together. Experimentation is exciting when plants that are not hardy survive, color combinations present themselves that are unexpected, and finding that not giving a plant everything it wants keeps it under control.
Dead plants are always a design flaw.
Invasive plants are also a design flaw.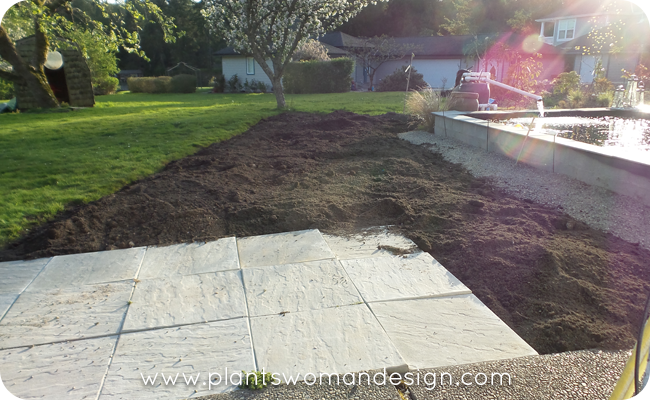 Now I have a new garden bed and I'm taking a walk in my client's shoes. I designed this bed like I would for a garden that would satisfy many of my customers. Striving for a very limited color pallet in leaf color, bloom and texture it looks and will look amazing. All the foliage in the bed is bright green and blue gray. The blooms are either white or lavender and blue. I dropped in three contrasts to make the bed alive in the late summer. A gray leafed Lobelia tupa with a brick red flower, and colocasia sangria, a gray leafed elephant ear with a red stem, and a low groundcover geranium 'Hocus Pocus' with a dark red leaf and blue flower.
Here is how I planned it and 5 good tips for designing your garden bed:
Choose for height. There are higher plants in the center with graduating heights toward the edges. The far end of the bed has a taller section with an evergreen Eriobothrya japonica (Loquat) for screening from the neighbor.
Choose evergreen, deciduous, and perennial plants. I want to be sure that the bed looks good year round. It is right in front of the window that looks towards the koi pond. I made sure that there was balance between all these elements so there are no big blank spots that would show up in the winter or summer because of dormancy.
Choosing color and texture. I pay close attention to the play of texture and color in leaves. The balance of texture between the Carex 'Evergold' and Stachys Bella Grigio is as interesting as the contrast in leaf color. The spikes of Agapanthus 'Blue Leap' between Lavender 'Richard Gray' and Spirea 'White Gold' are also an interesting combination.
Bloom time. Surprising enough the bloom flowers in the bed are the last things I think about. There are so many great plants to choose from it is easy to get the flower color right. Early blooms in the geranium, and the campanula 'Dickensens Gold' will be the first to show, the Agapanthus, and Lavender, Centaurea simplicicaulis will be next. Later season blooms will be caryopteris 'Dark Knight', Salvia elegans 'Gold', and the Lobelia Tupa.
Site considerations (AKA where is the sun). Usually this is pretty easy to define. Sometimes you can add something that likes shelter behind something bigger. The Lobelia tupa likes to have shelter for longevity so I planted the pittisprorum 'Blue Wave' between the water and the lobelia. This should protect the lobelia from the brunt of the weather.
Variations in number of plants is flexible and completely up to the designer. Repetition of plants creates rhythm and looks natural because in nature plants do seed around and create groups.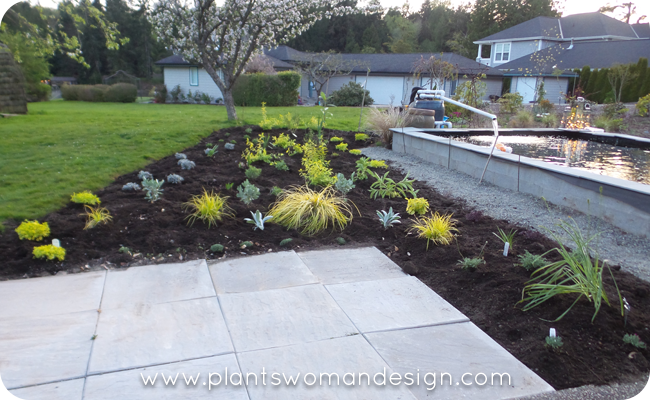 Plant List for Hot and Bright!
Lobelia Tupa, Caryopteris 'Dark Knight', Agapanthus 'Blue Leap', Spirea 'White Gold', Geranium 'Hocus Pocus', Campanula 'Dickenson Gold', Carex 'Evergold', Colcasia 'Sangria', Lavender Richard Gray, Centaurea simplicicaulis, Salvia elegans 'Gold', Pervoskia atripicifolia, Stachys 'Bella Grigio', Saxifraga crustata, Salvia nemerosa 'Blue Marvel', Panicum 'Ruby Ribbions'.