So many people think that the garden goes dormant and nothing happens in the winter. That is so not true and if it is true in your garden it's time to explore Winter Plants. Plants, like people, like different things.  Some don't start their bloom cycle until everything else stops, fragrance drifts on the breeze tempting you to follow the scent to discover what is going on. Right now, there is the crazy scent of grape soda along my garden walk.
Winter Plant Profiles: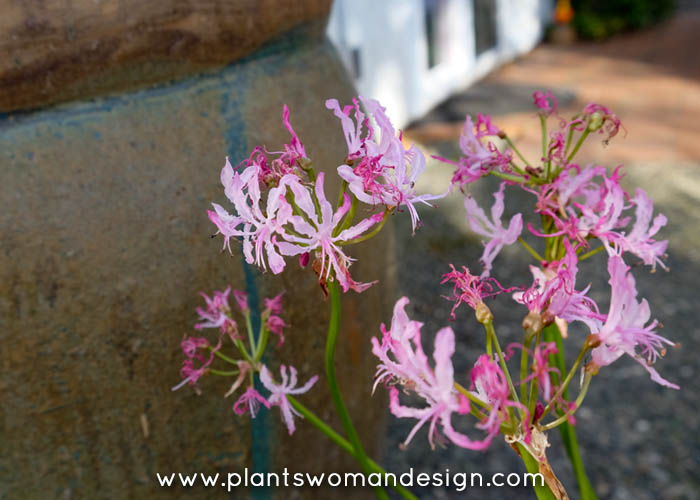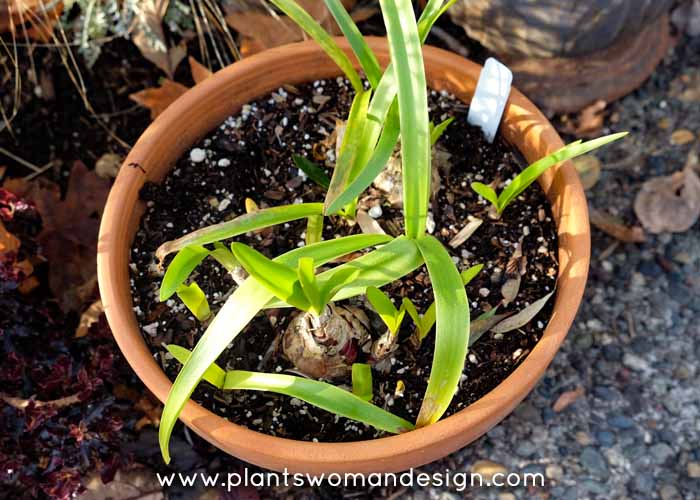 The stunning Nerine Bowendii is happily blooming under the fremontodendron 'Ken Taylor'. It is in a dry bed that get lots of hot sun and has the reflected heat from the parking area and a walkway.  The strappy leaves aren't very exciting and you kinda wonder what it is.  Then suddenly there is a blast of berry pink showing through the branches and a sweet berry fragrance in the air.  Several times I've walked by wondering what it was before I investigated.  I have Nerine undulata in a pot that I purchased online.  This goes into the greenhouse when the weather cools and it becomes wet. The tops of the Nerine bulbs should stay slightly out of the soil so they have a good baking in the summer.  Drainage is the most important thing for these bulbs.
Read more about Nerines… Spring is Not The Only Fall Season: Fall Bulbs and  Fall Garden Super Star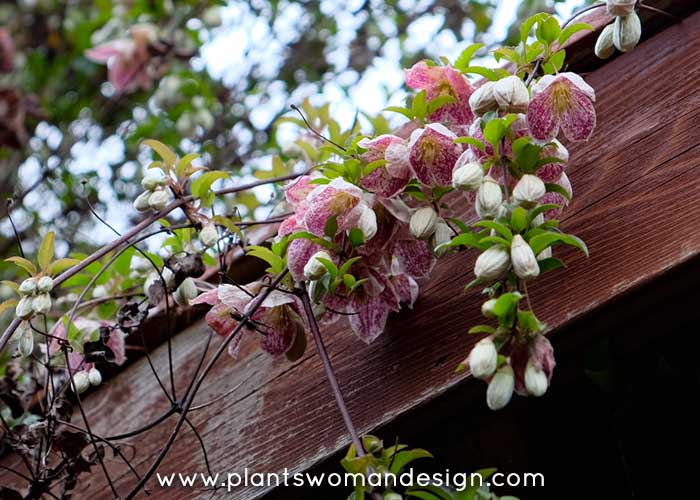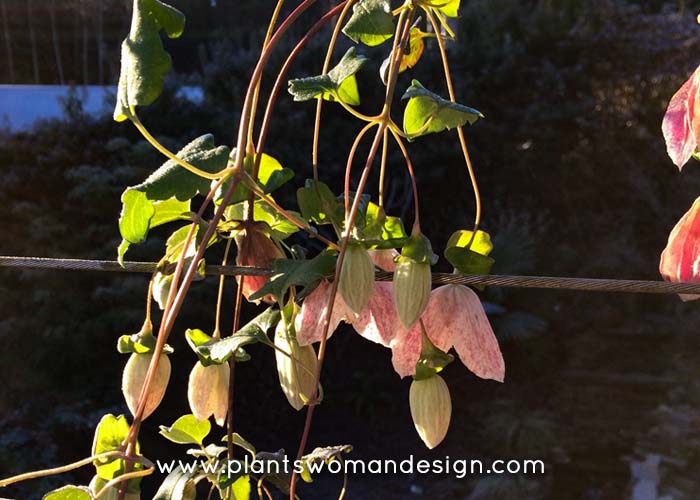 Clematis cirrhosa var. purpurascens 'Freckles' is an evergreen winter blooming clematis.   I first saw this plant in Seattle, growing on a sheltered wall, about 10 years ago when my daughter lived there. It was so surprising and unknown to me.   It blooms all winter on previous year's growth. The creamy bells are densely freckled in their interiors with dark red-purple. Evergreen in our climate but needs protection from drying winter winds. I purchased one for my old house on miller bay. It grows up a post onto the deck, and along the railing. It is large now but the stalks are not very heavy so it is ok for it to hang on the railing. Blooming so beautifully right now but is hard to find for sale. This is one of the many garden worthy plants that go out of favor so growers stop growing them. There are several varieties including 'lemon bells', and 'wisley cream'. Hardy in zone 7 they need only occasional hard pruning and some clean out and growth directional pruning after flowering.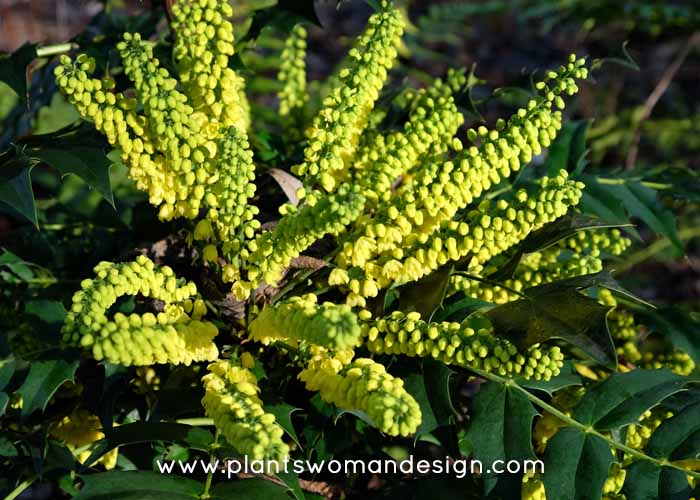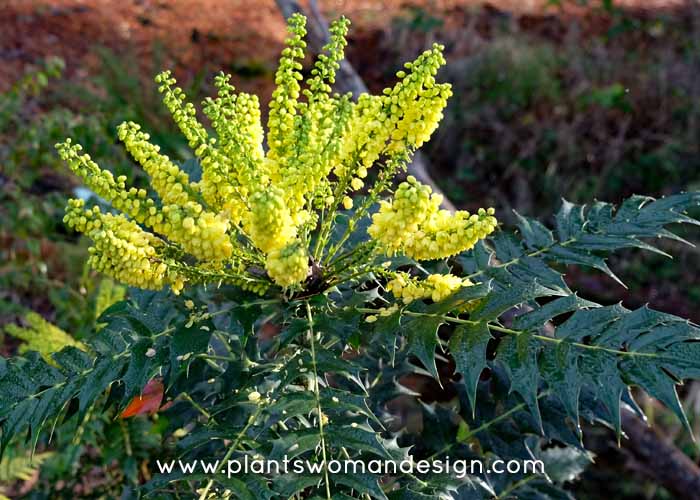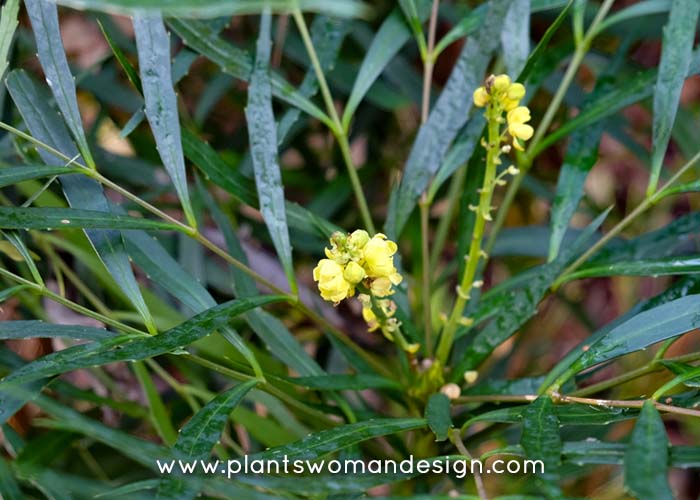 Walking through the woodland with everything dormant and leaves on the ground, Mahonia Charity practically shouts out to be seen. The bright yellow flowers provide relief from the gray, brown and dark green in the garden just now. Mahonia 'soft caress' has lost most of it's flowers and the fine foliage maintains throughout the rest of the winter. Mahonia Charity is just starting and although a much more structural plant the flowers are the same electric yellow that softens as it blooms out. A very important food for overwintering hummingbirds it bridges the gaps between blooming seasons. It is often still blooming in a warm early spring when the mason bees come out.
Have a walk in your winter garden. Take note of what is blooming out there. If there is nothing then you should start working on next year. Nursery stock is still high and mail order plants are ready to ship. Plan, plant, enjoy.