When Autumn comes along, it is hard for me to give up my vegetables. I especially miss the ability to go out and grab just a few leaves of something to make a salad or to add to an omelet.    Every year I reserve a small section of my veg garden for my fall crop of salad leaves.  Planted at the middle of September the small plants are coming along just fine.  During the summer, my local rabbits munched on some of my salad greens, a few peas, and tops of carrots.   Not liking to spread stinking spray or trap, I just let them have a few bites.  However, every leaf counts in the fall and I'm not willing to share with those fuzzy little beasties. Their munching makes a big dent in my fall harvest and they will have to be kept out.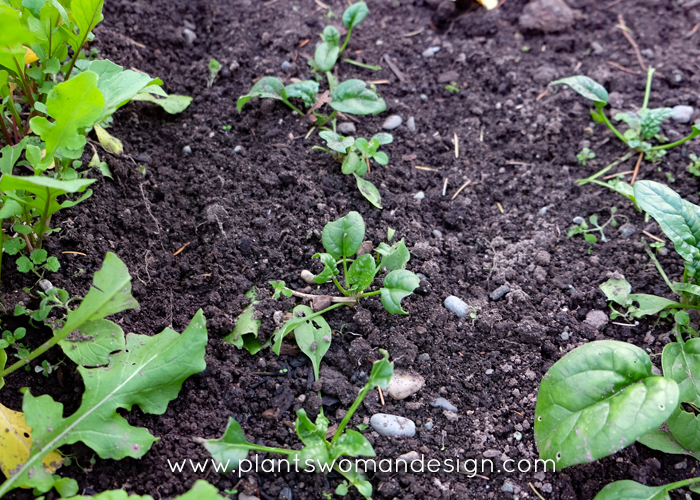 I have used pot trays to keep the leaves from being eaten until now but as the leaves get bigger they will need more room to grow.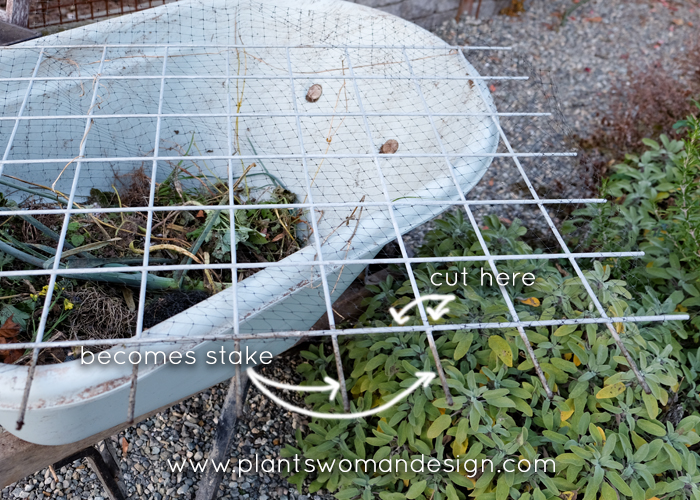 One on the most useful things I've found for my veg garden are pieces of galvanized fencing.   Purchasing one big panel can provide several pieces that have multi-use functions.  The fencing can be cut with bolt cutters so a saw isn't needed.  Cutting off the bottom cross sections (either one or two) make them self staking.
For my small plot of winter salad greens, they can be used to keep out the munchers.   But because the rabbits are pretty small netting needs to be attached to the fencing to keep them from getting through the holes.   Using netting from the fruit trees is a great way to re-purpose and reuse.
The netting can be placed around 3 sides of the panel with the bottom tucked under the self-made stakes that are created from cutting the larger panel into smaller ones.   As the smaller panels are forced into the ground the mesh is caught and held tight.   Use garden twine to secure the top portion of the netting.  Since the rabbits don't really jump, 2 – 3 feet is all that is needed to keep them out.  Cover the fourth panel in netting independently so it can be removed when you need to work inside the bed.
For added weather protection grow cover can be spread over the top to increase heat and keep frost off, either attached or just laid on top depending on wind conditions.   It has been sunny and warm in the daytime and about 45 or so at night in my area. You can find seeds that are suitable to the conditions in your area at your local nursery.   Spinach, arugula, and leaf lettuce are good to start with.    Usually you want to start fall crops about 4 – 6 weeks before the first frost date in your area.
Six Ways To Use Galvanized Fencing In Your Garden:
Support for vines like squash to keep them off the ground.
Permanent fencing
Support for peas and beans.  They will climb up them easily.  They can also support bush beans from falling over.
Permanent espalier support
Temporary fencing to keep out animals (including chickens).
Walls for compost bins to help with air circulation.
Let me know if you have ever used galvanized fencing and what you did with it!  Comment below.