Sometimes spring doesn't smell so sweet. The Western skunk cabbage or Lysichiton americanus is one of those plants.
My property has a pond and stream on it and there is a great bit of mucky edge that will make a great bog garden. Right now it is a little junky with invasive reed grass, water cress, and Himalayan blackberry (I have been cleaning these out since I have been here). Planning the bog garden began with a Gunnera tintora (from my old garden) and some native iris pseudoacorus. Those went in last year and the list has been growing in my mind. Skunk cabbage is one of those things from my childhood that bring back fond memories, not sweet, but fond. Today I spotted some along a stream on family property on the Olympic Peninsula. No time like the present so off I went to dig some.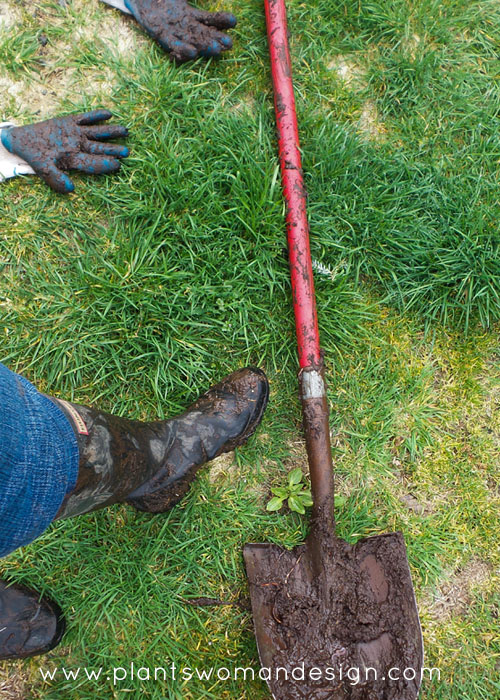 When going out to collect some Lysichiton americanus be prepared to get muddy. Lysichiton americanus likes to live in very boggy, muddy places. It also is very deeply rooted. When I finally liberated some fine specimens the holes were about 2 feet deep. Shovels full of heavy (with tree roots and leaves), wet soil were lifted out of the area to get to the roots at the bottom of the stalk.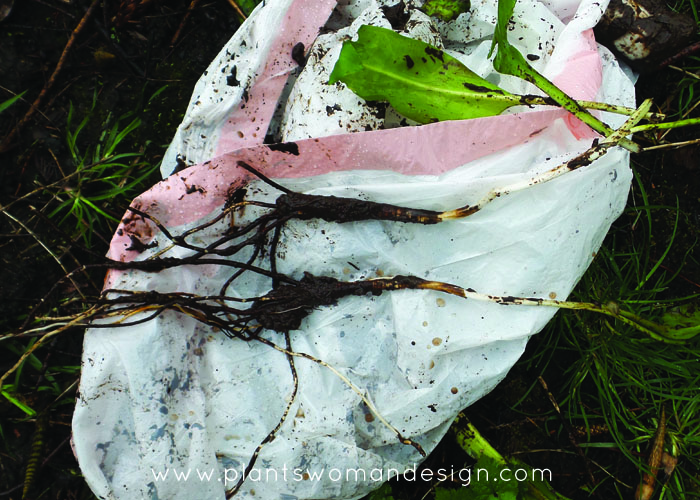 Garbage bags were the container of choice so the mud could stay with the roots and only with the roots, no mud in the truck.
Several large pieces came up and were good to plant along with two small bulbs. They have a bulbous end with long roots. The larger ones had roots that were about 15 inches long. They pulled out of the ground with a sucking sound.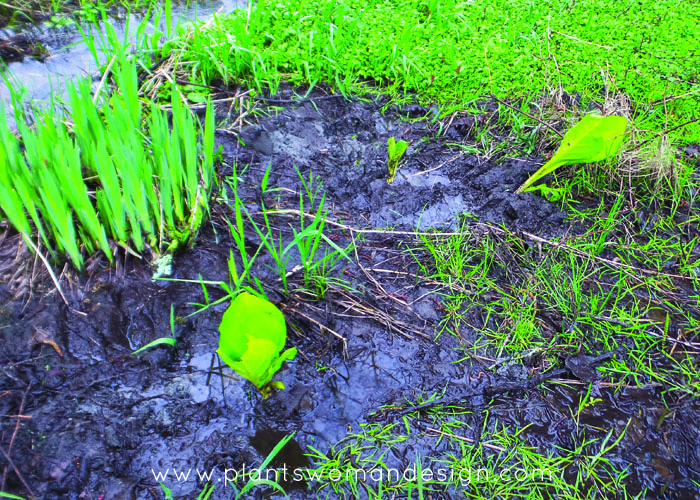 Here is their new home. Yes it is just as muddy here too.
Hopefully they will form a colony of skunk cabbage. They are used in design for a native ground cover in a boggy situation. Several sources say they won't bloom in shade but I have only seen them in the shade out in the wild. They bloom with a yellow and sometimes green spathe. Arum lilies are popular with gardeners. It is possible that this one is not because of the scent.
SKUNK CABBAGE (Lysichiton americanus)
FAMILY :Araceae family (perennial)
HARDINESS : Hardy to Zone 5-9
EXPOSURE: Grows in woodland, dappled shade with
SOIL :   many types, wet soil being preferred.
NATIVE :   Western N. America