I remember seeing my first snowdrop as a child in my Grandmothers garden. She didn't have much else going on in the garden but the old established clump of snowdrops came up every year.
I've always planted snowdrops in whichever garden I've established. This year however I became more interested than ever before. When I lived in the UK I knew they were passionate about Galanthus but never really knew the obsession. Maybe I'm starting to. The mystery of Galanthus cultivars and their variations are what drive the galanthophile to search, pay high prices and even steal rare bulbs. To understand more clearly I looked for what some call the 'Snowdrop Bible'. This is book, called 'Snowdrops: a Monograph of Cultivated Galanthus' by three experts in England is the undisputed authority on Galanthus. It is also undisputedly the most expensive book I've ever coveted. No I did not buy it (Amazon can get someone else to spend $2,221.00 on it). I mentioned it to a friend and he said he had one. I begged to borrow it and promised not to spill coffee on it. He had no idea of its Amazon value and thought that John Grimshaw one of the authors had probably given it to him.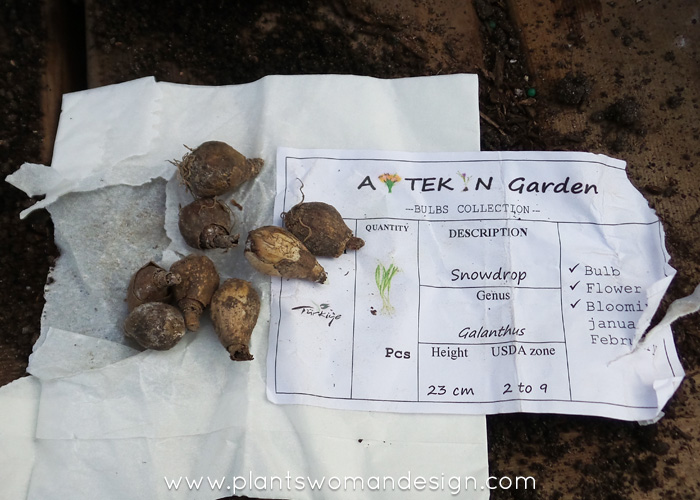 Reading and studying everything Galanthus became an afterhours treat. The more I read the more intrigued I became. I ordered bulbs from Turkey and from Carolyn's Shade Gardens (great U.S. source), purchased some from the nursery near me, in Seattle, the wholesale nursery, 'Far Reaches Farms' and even moved some from my old garden. Hmm… maybe the obsession is catching.
As I studied them the realization of what I didn't know became clear. Some galanthus simply labeled 'Snowdrops' with no botanical name had variations within in the pots. They are probably a collection of Galanthus elwesii based on the way the leaves are held, color of leaf and size of leaf. Many of these variations are created within a group of galanthus while they are in the ground. If a new variety is found in England it is studied and grown on for several years to see if it is worthy of a name and becomes valuable because of its form. This often takes several years. I don't think there is any such protocol here in the U.S.
I'll share with you the variations I have found within the pots I purchased and the variation that has been growing in my garden for several years.
Galanthus unknown 3 – This was purchased at Well's Medina Nursery. It was in a pot with other bulbs that looked to be normal cultivars of Galanthus elwesii. This one, however, had a mostly solid green X on the inner petals. The species have a small green W on the tips of the inner petals.
Galanthus unknown 4 – This was in a flat labels 'Snowdrops' from Valley Nursery. The entire flat was normal species type except this one bulb. It has a pronounced X up the inner petals and the outer petals fly upward.
Galanthus unknown 5- This was in the same flat labeled 'Snowdrops'. The thing that is different about this one is the top is mostly yellow. Sometimes a snowdrop will have a yellow ovary and yellow in the blossom. I will wait and see what develops with this one.
Galanthus unknown 2 – This is from my old garden. It is growing under less than ideal conditions very close to a large cedar tree. However, they are doing well and the clump is increasing each year. It is a consistent color variation. The green on the inside is the opposite of a regular snowdrop. The white is the small part on the bottom and the green is in the main body of the inner petals. The outer petals have a green blush on them, most unusual for Galanthus. We will see how it produces in this garden.
The ones that are named from nursery sources are also wonderful.
This one is Galanthus 'Blewbury Tart' from Kelly at Far Reaches Farms. It is a very nice double that faces outward instead of upside down.
Galanthus Hippolyta is a sweet double with clear green mark from Wells Medina Nursery in Seattle. I have more on the way from Carolyn's Shade Garden.
This Galanthus poculiformis groupl 'Lady Mary Grey' is not mine yet. It is in a friends garden and is most unusual because the inside perianth is very short and white, very different than a regular Galanthus. I will be able to get a start as it goes into dormancy.
This is another Galanthus that wants to come home with me. It is Galanthus elwesii x plicatus 'George Elwes'. It is growing on the edge of the driveway and has good large blossoms that hang nicely in the wind.
Is that enough to make you start thinking about a collection of your own? How can you not love them?
Exposure: Like light dapple shade with high canopy.
Soil: Moist soil that doesn't get to dry in summer. Light humus rich, some experts say lime is best but they seem to grow fine here in our mostly acid soil.
Zone: 4 -9
Planting: When planting 'In the green' be careful not to disturb the root systems as much as possible. Don't allow bulbs to dry out. When buying as bulbs, be careful of dry, soft bulbs with no green showing. They will probably not produce a plant.
These are lovely in big sweeps. They usually will propagate themselves easily with bulblets. It is hard to reproduce from seed. Dividing clumps is a good way to increase the quantity. Use them along edges of pathways where they can be observed easily. On top of rock or ledgestone walls is also ideal. Good companions are early blooming small narcissus, Wood anemone, and Ranunulus cultivars (I love Ranunulus 'Brazen Hussy'). They can also be naturalized in grass. Wait until finished blooming and dormant before mowing. English Daisy and crocus look good with the grass bedding.