It's nice to get away from the Pacific Northwest in the spring.   Sometimes you can count on a beautiful Memorial Day but usually it will rain and this year was no exception. Lots of rain but not for me as I was in Phoenix visiting family, a great place to visit this time of year. Not hot yet, a mild 70 – 80 degrees, which is not hot even by our standards. Surrounded by friends and family, I usually force them into a visit to a botanical garden or other horticultural activity. This time I was content to go with the general votes as to activity and not force others into seemingly endless views of plants and flowers. We drove to Sedona and went on two great hikes. I was usually at the end of the line of 6 hurrying to catch up after taking pictures.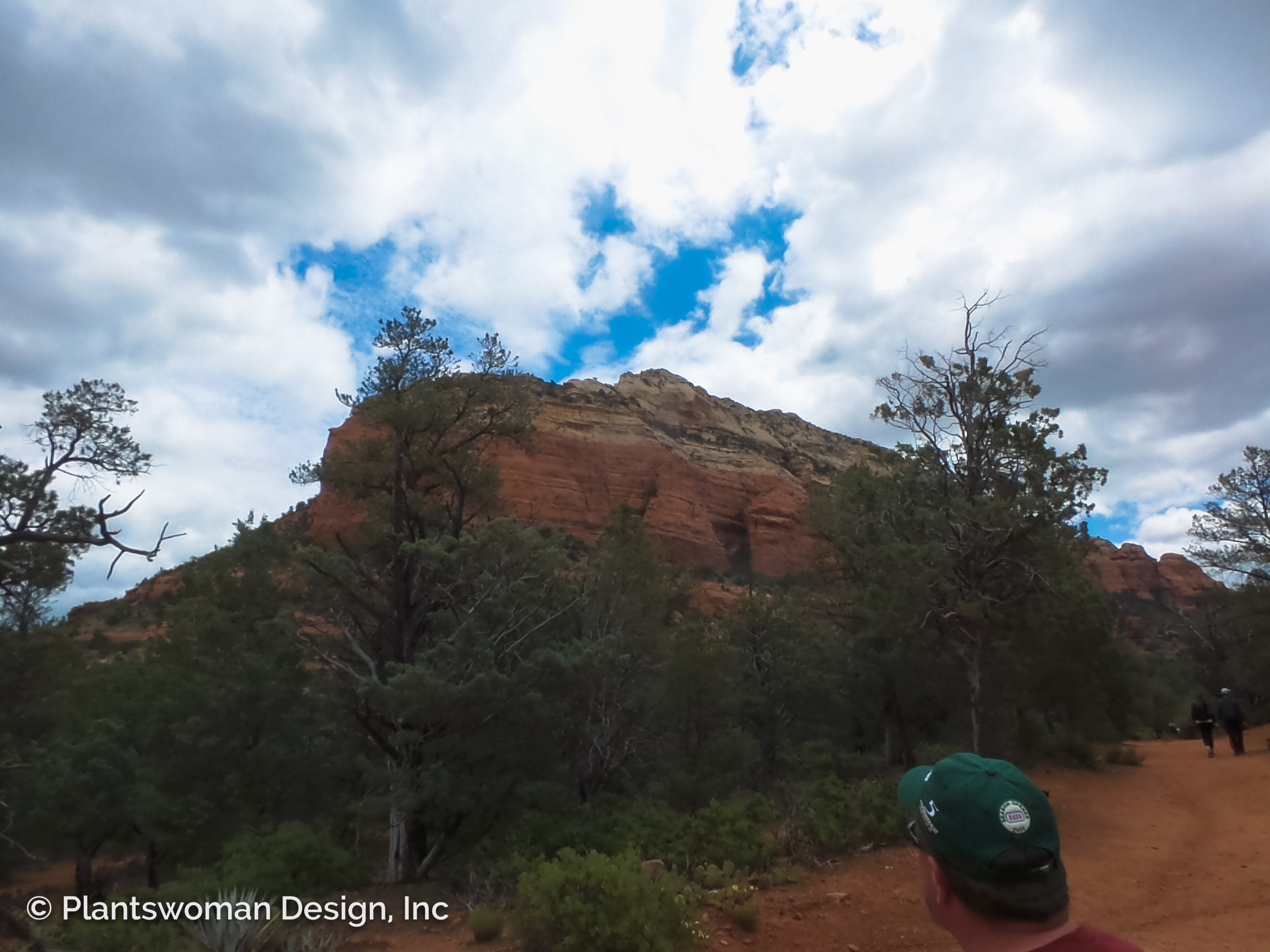 This May has seen a lot of rain in the Phoenix area as well. The hills surrounding the city are sage green instead of various shades of brown. The first day we hiked to Devil's Bridge, which is a fascinating upper desert hike. Cactus, Oxanix, Yucca, were blooming as expected but what I did not expect was the amazing variety of wildflowers in the sand and gravel. The trail was dry and dusty but alongside were blooming daisy, pennstemon, grasses, yellow lineanara, a light purple thistle/centura, and MANY things I did not recognize. I stopped again and again taking pictures and will continue to do research on varieties found there. Some of them looked very similar to the New Zealand plants that are very popular in nurseries for our Mediterranean climate. Several trees, including varieties of Pines, and deciduous lovely green leaved trees lined the trail. But one of the standouts for me (hater of Juniper) was the colorful juniper with beautiful multi-colored bark. Looking similar to the Eucalyptus trees we found in Hawaii, I would have never expected to love them. The sage green coniferous foliage was a great contrast to the bark. It felt like I was walking through a botanical garden with a very natural design.   The grasses massed together naturally and the bright spots of color stood out against the contrast of rocks and gravel.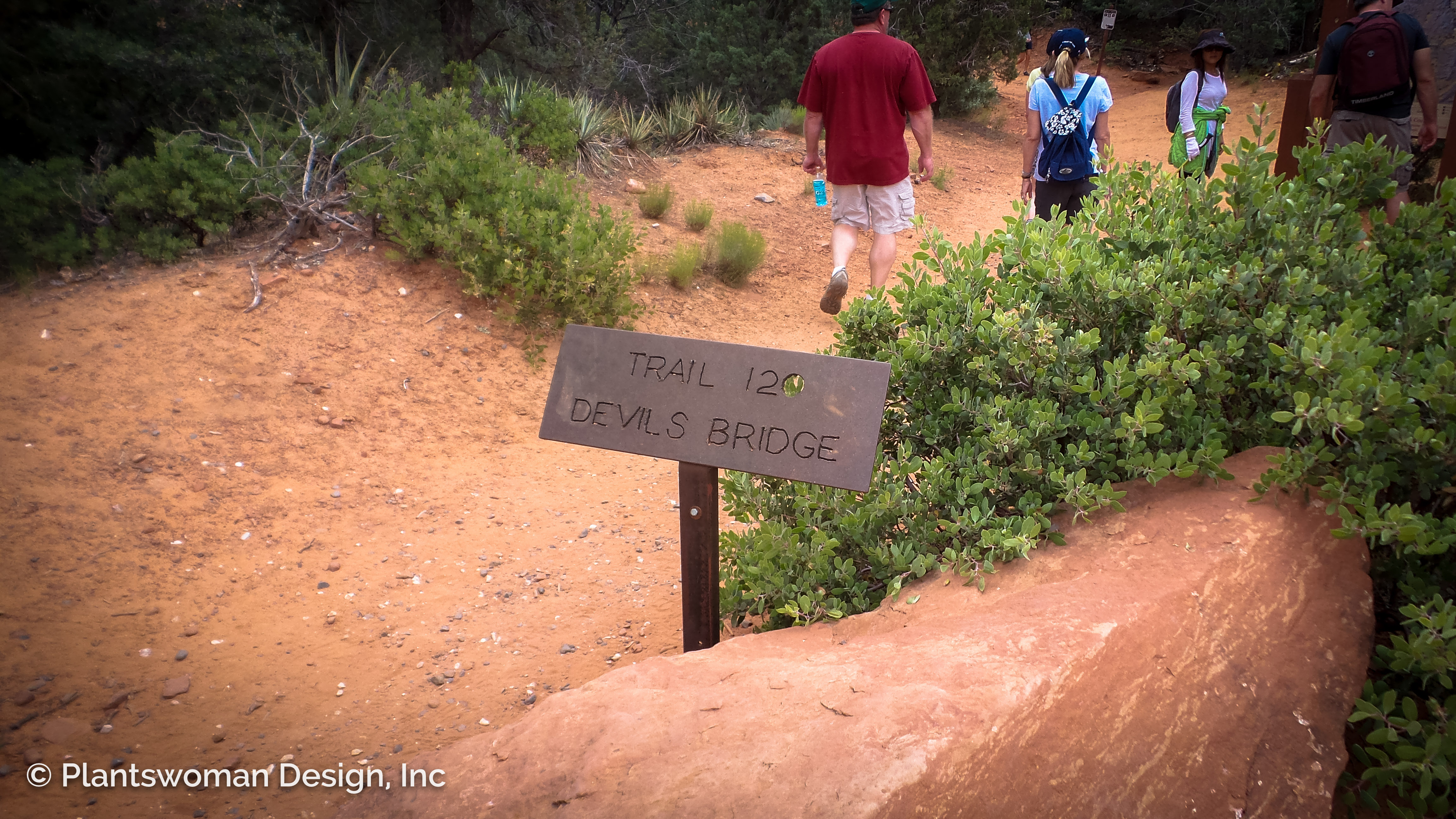 Smooth, beautifully worn large pieces of sandstone were crossed and you could see were flash flooding or old streambeds created washes, and collections of rocks along the edges of the trail.
Air was fresh and scented with sages and the juniper. I know I'm writing mostly about the plants but the rock formation of Devil's Bridge was amazing too.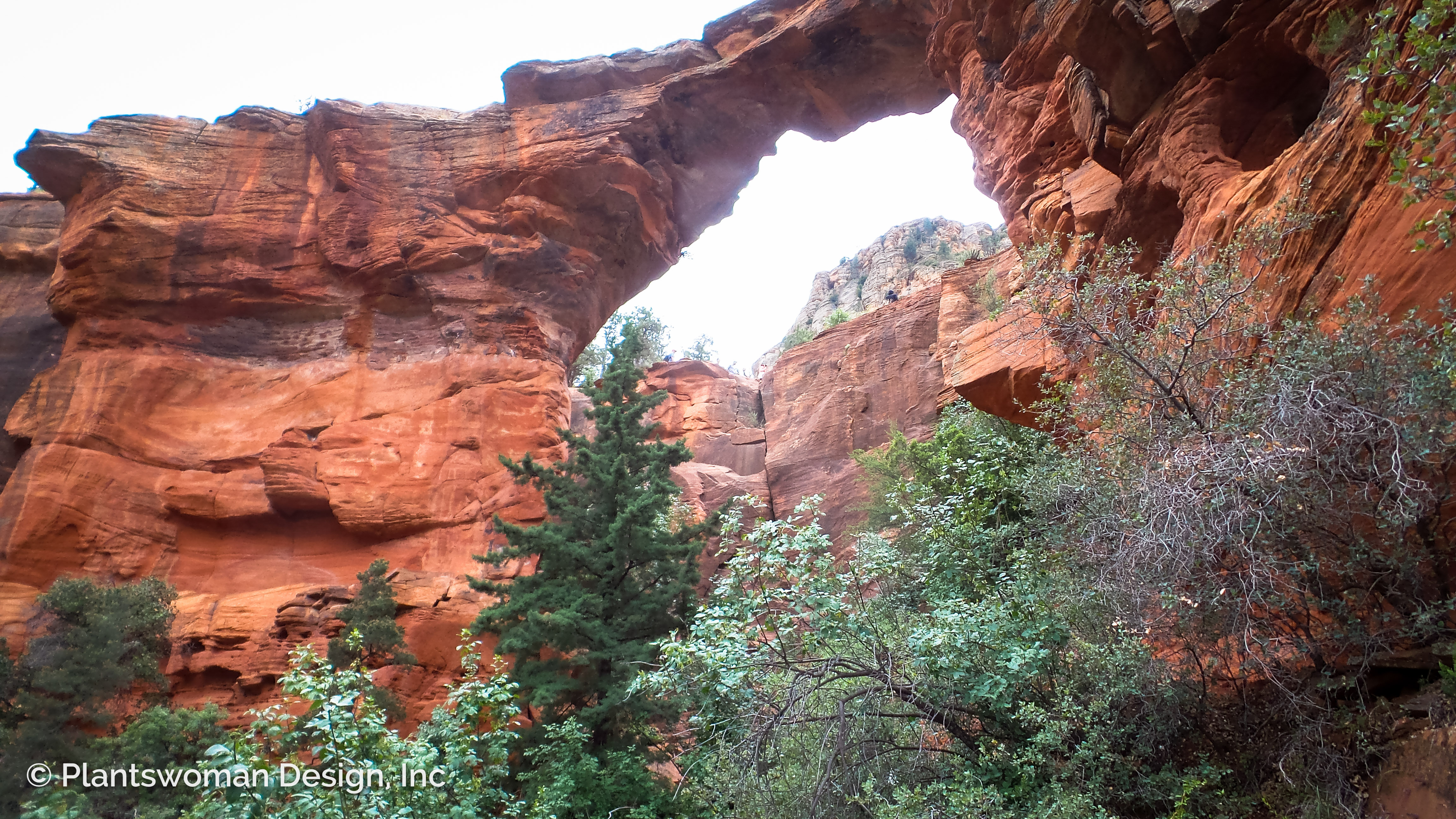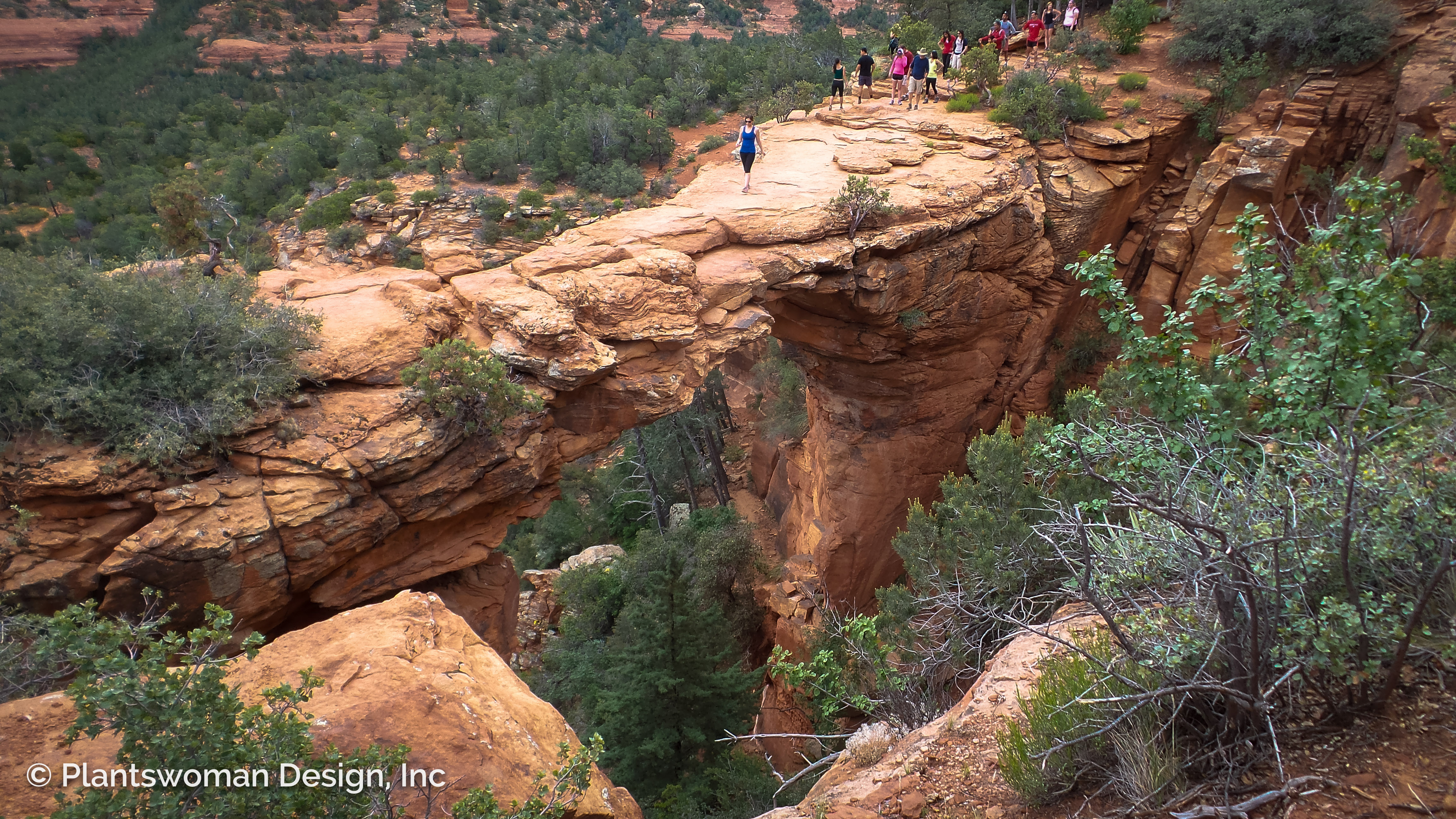 After spending time in the dry desert of Sedona on one day we decided to visit the river the next. There is a lovely hike along the river, just a short distance away. The two areas could not have been more different. It was cooler, shaded, with an unexpected lushness. The plants were different with subtle color and texture. Ferns! Yes ferns growing under the larger trees.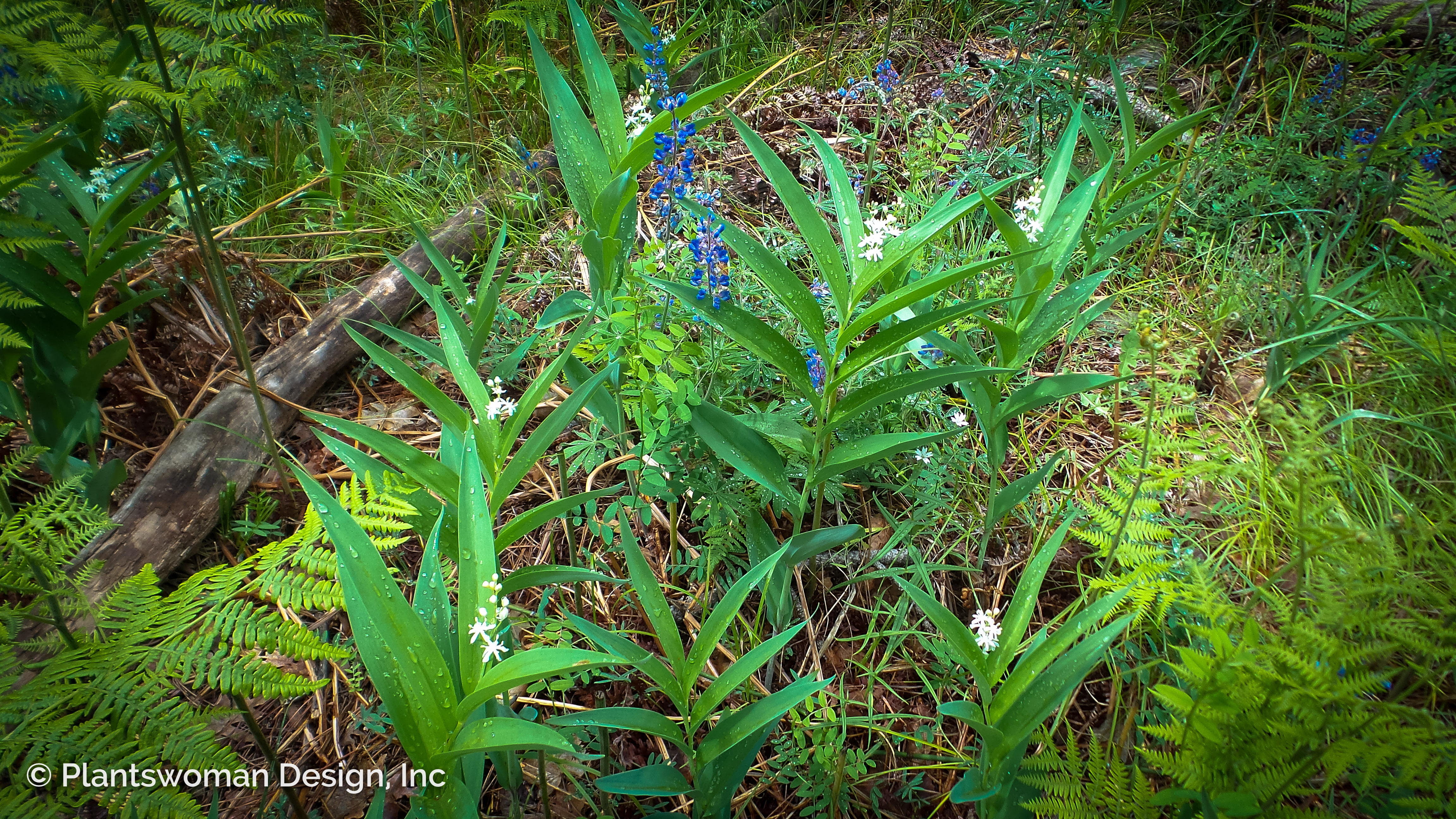 The trail meanders along the river with 12 crossings with sandstone under foot was easy too walk on. If you happened to slip and fall in the water it just felt great. As we went up river the sides of the valley became steeper and the rock formations towered over us. A cool spot for a picnic lunch then back along the river back to the parking lot. Cool drinks awaited us when we got back to the cars. Such a great hike!
Interested in creating a more natural look and feel in your own garden? Take a look below.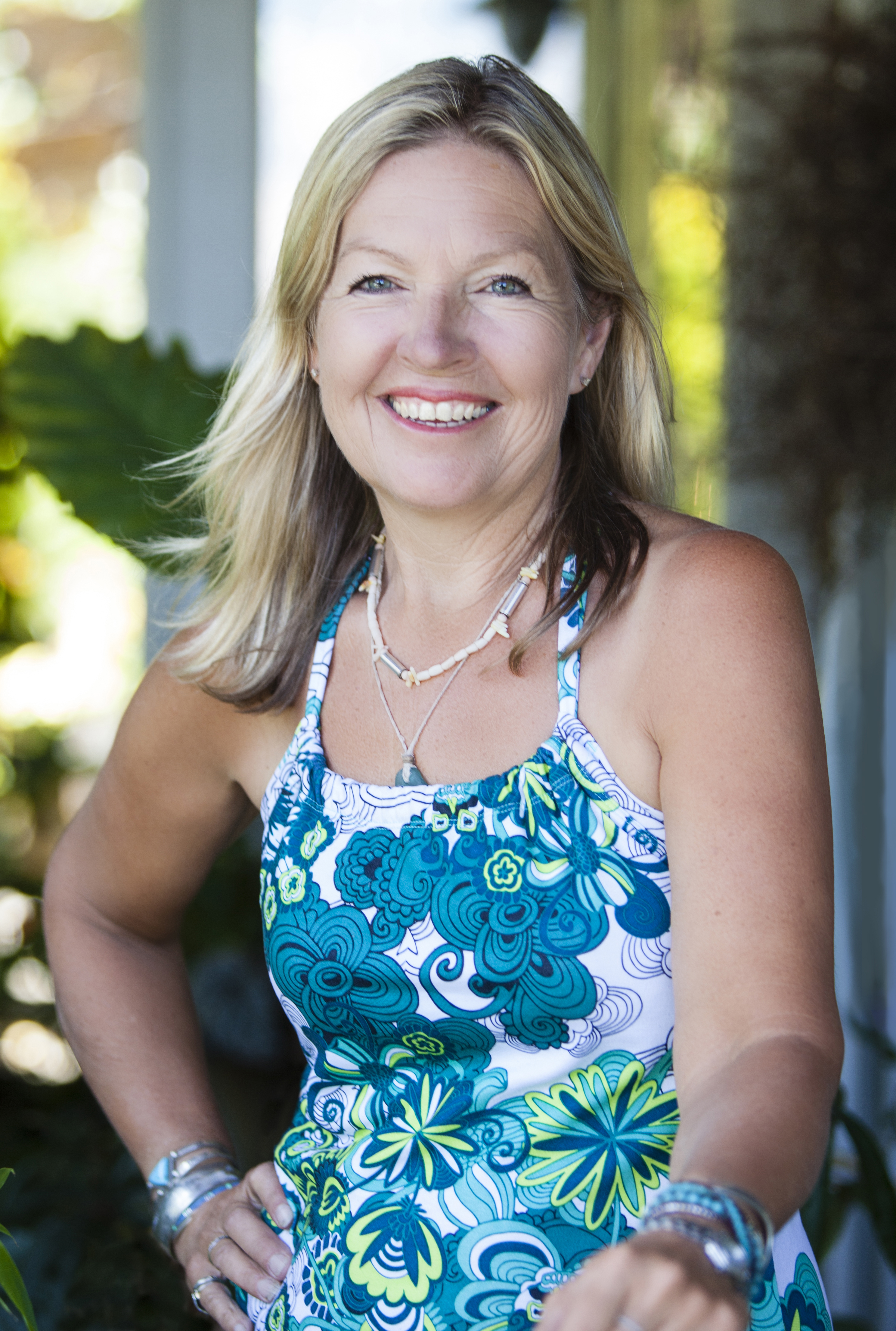 Hello and welcome!  I'm Susan, owner and principal designer of Plantswoman Design. When I'm not designing for others I'm in my own garden growing and experimenting with plants. I want to inspire everyone to grow something. So, join in the conversation and then let's get outside!