Picking out a clear plastic container out of my fridge that, having gone unnoticed, now contained liquefied salad greens I swore it could not continue… The beds have been cleaned out and waiting for this horrible winter to conclude but still it remains in the 30's with snow gusting on the wind.  Like the plants that don't read their tags the weather doesn't read the forecast.  It is March.   Usually if it hasn't snowed by Valentine's Day we can count on having no snow at all. Valentine's Day has come and gone and still we have cold yucky weather.  I checked back in my garden journal and many times I have started early spring crops in the first week of March. This year, however, I will need to try and outsmart the frigid, lingering winter. I know many of you, living in colder areas of the country, have no sympathy for me. With regular precision, your weather is cold into the end of March and sometimes into April.
So, I broke out my handy dandy tool for creating hoop houses out of electrical conduit and started to work. I purchased it from www.buildmyowngreenhouse.com and it works great for creating hoop houses and netting/bird covers.  Using my macho looking tool attached to the work bench (inside because it is cold outside) I bend 1/2-inch conduit into three arches for the planting beds.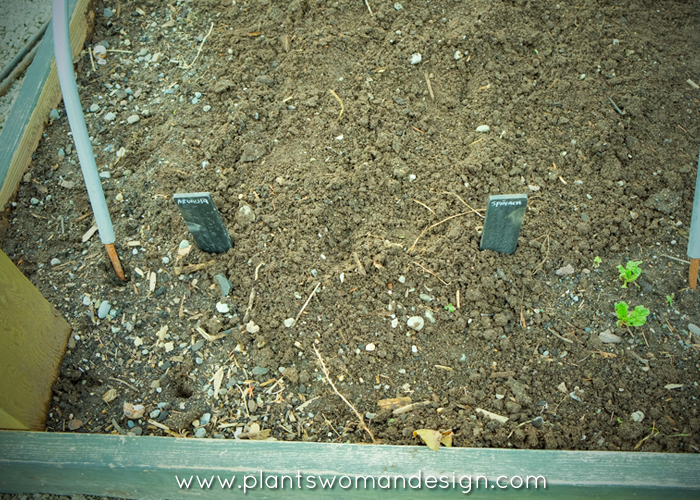 I planted 2 kinds of spinach, Olympia and ­­­­­­­­­­Bloomsdale Savoy. 1 row of Lacinato 'Dinosaur' – Heirloom Kale. Two types of Lettuce, New Red Fire Loose-leaf and Baby Mesclun, cut and come again, and two rows of Arugula ' True Italian'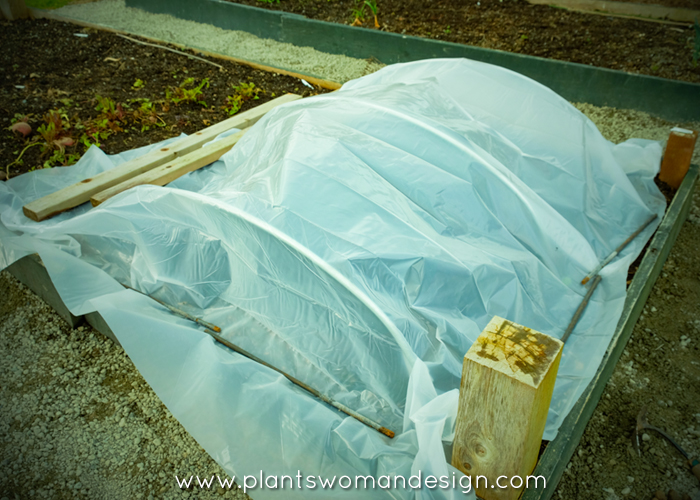 I placed one layer of 16 mil plastic over the whole bit and anchored the edges securely with boards and rebar. This should hold it in the wind better than garden staples which can pull out. These new hoop houses can protect the new plants from frost and keep the ground warmer by 10 – 15 degrees on a cloudy day.
I did read about an interesting method for discouraging slugs in an organic garden. They cultivate the ground for two weeks to break up eggs from slugs and snails before planting salad crops. Slug eggs take 4 weeks to hatch out and the salad leaves are usually ready to cut by then.
I will keep you posted on how the salad experiment works out! Let me know if anyone out there is already eating non liquefied salad greens.